Longtime coach and current Papillion-La Vista High School principal Jason Ryan was honored with the Special Recognition Award at the Metro Tournament hosted by Bellevue West last week.
Ryan, who recently was the Athletic Director for the Monarchs, began his career as an assistant at Papio. But his experience with the Metro Tournament goes much further back.
Growing up in North Platte, Ryan would drive with his family from an early age.
"I would just sit there and watch games as a 10, 11-year-old at the Civic Tournament all day," Ryan said. "Growing up playing three sports, coming to Omaha, watching high-level basketball at the Civic Auditorium."
Coaches also impacted Ryan towards coaching himself, and once he became a coach, the Metro tournament was "always a big thing for our teams over the holidays."
"Typically you're at one site, one big venue and it's a great time to see alumni come back and every year you see people that, that's just what they do over the holidays is attend the Metro basketball tournament," he said.
The Monarch principal served on the Metro Basketball Committee for over six years, but doubted at first the decision to award the special recognition.
"When they called and said, 'Hey, you are our nominee,' I just said no, what are we talking about," Ryan said. "I can give you the names of people that should be called to recognize. They said, 'No, we decided on you, it's a done deal,' but I'm very humbled and honored. The list of previous recipients is a pretty outstanding class of individuals who have done a lot for the Metro Basketball Tournament and the Metro Conference in general."
The reception of the award also gave Ryan time to reflect on his time as an educator, assistant coach at Papio, head coach at Bellevue East for over a decade, and AD at Papio for most of the last decade.
"Being a part of the tournament, it's definitely been an integral part of the holidays for myself and my family," he said. "I had two daughters play in the Metro tournament, one of my daughters (Josey) was on our first championship team here at Monarch high in 2018-19.
"It's definitely been a staple in the Ryan household for many, many years."
Ryan expressed his gratitude for all the people behind the scenes who help run the tournament each year, from the people running the clock, the scorebook, scheduling the officials and the officials themselves.
He added he learned from watching people do the little things to "provide the best opportunity" for athletes to have a great Metro tournament experience.
"There's so many things that go on behind the scenes to make that operate," Ryan said. "I think that those are some of the lessons I learned, and just people giving back and a lot of people volunteering, for so many people to give up days of vacation and time for the holidays to impact the game of basketball and to support our conference is really neat to see."
Ryan once again indicated his reflection because of the honor.
"I'm just very humbled and as I reflected back, (thinking), oh my god, this is my 26th year in Omaha," he said. "Time has gone fast, it doesn't feel like I've been here for 26 years. That many Metro tournaments in a row is kind of crazy."
Papio South volleyball senior Stella Adeyemi was also honored by the Greater Omaha Sports Committee on Tuesday, Jan. 10 with one of 13 scholar-athlete awards.
"Stella has had a tremendous four-year career at the varsity level," Papio South head coach Katie Tarman wrote. "Something that stands out about Stella is the amount of growth, strength, maturity, and leadership that she has grown into. She was a very young immature babe as a freshman which is to be expected.
"On the flip side, Stella is incredibly strong holding several records for strength. She became a VERY FIERCE competitor whom her teammates respect so so much. They respect her so much because she demands a lot from them while also coming from a place of love. She won't ask anyone to do anything she won't do and expects that from herself. We are very very proud of the young lady she is becoming."
Tarman added that the high demand was a major reason for Adeyemi's success, because she brought that same drive to excel into the classroom and in balancing her schedule.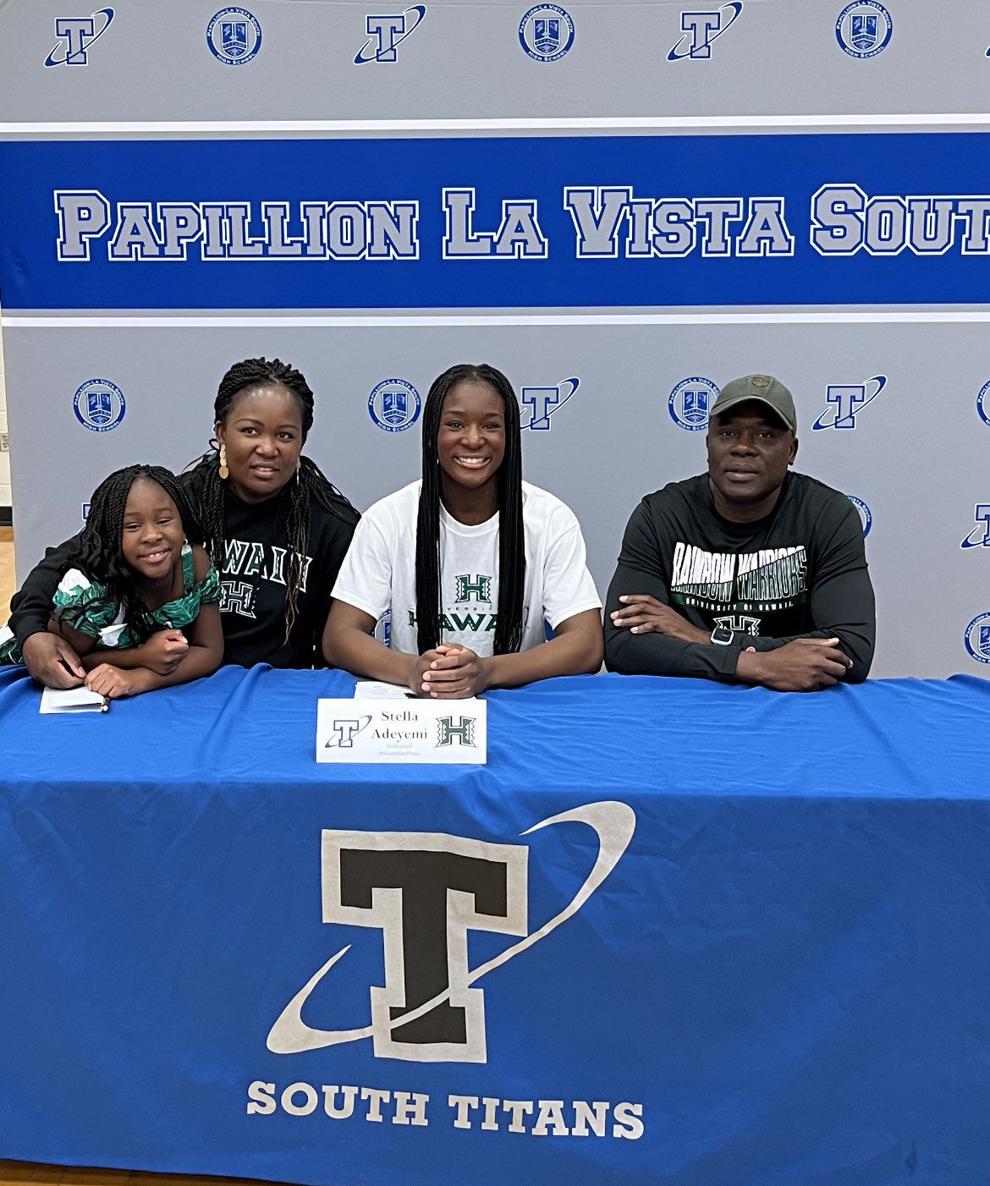 Adeyemi is committed to continue her athletic and academic career at the University of Hawai'i.
"I expect that Stella is going to thrive at Hawai'i," Tarman wrote. "I have seen nothing but this kind of behavior from her. She is a quiet, incredibly driven young lady who also has a stubbornness to her personality that serves her very well."
Tarman added a short story about Adeyemi's growth at Papio South.
"A fun story about Stella. She was NOT one of our primary passers in her early years. We would literally give her a sliver of the court to pass in, not because we didn't think she should pass but because we had a couple phenomenal defensive players back there during her rotations.
"Every time we would tell Stella not to go past a certain area in passing, she would pretend she didn't hear us and would find herself taking balls we probably ask someone else to take. This stubborn determination would often frustrate me as her coach, BUT she was absolutely GOING TO push past the barrier and become a better passer."
Tarman expects nothing to get in the way of Adeyemi's goals and she, along with the rest of the Titans volleyball program, are "excited to watch her go reach her goals."
In softball, Monarchs Emma McGrath and Emmie Wills, and Titan Laila Fiscus were named to the rosters for July's Nebraska Coaches Association all-star contest.
During the season, Monarchs head coach Todd Petersen called McGrath and Wills — along with fellow senior Haley Wilwerding — great leaders.
"All are great players and starters, and great students," Petersen said. "All three were big contributors the last two years and Haley is a 4-year starter which isn't common. We will miss them on the field, but I think more so their leadership. They exemplify the character of what we want in a Monarch softball player."
"Laila for me has been a major four-year letter-winner," Titans head coach Tom Horton said back in Sept. 2022. "She has been absolutely a staple for us in the outfield for the last several years. She's extremely fast, she's been doing a great job. She is what I consider our senior leader for the seniors. She does a great job with that and corralling the seven that we've got."