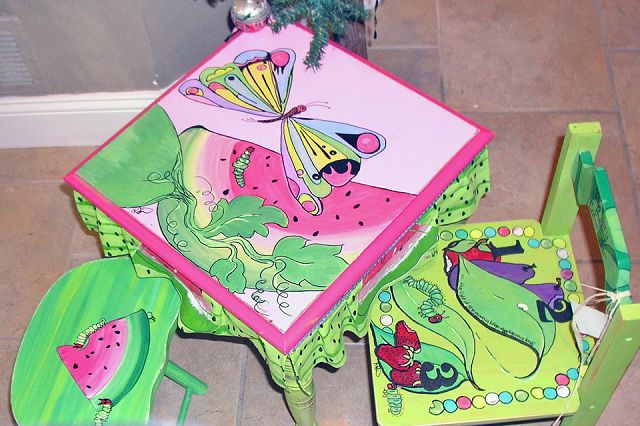 Just like the bird that shares her name, Robin Nielsen searches out and gathers unused, cast out and otherwise forgotten items to repurpose, reuse and recreate.
Nielsen is using her desire to recreate and opening up Robins Nest in downtown Springfield.
"I find things and remake them," she said. "It's just finding other people's junk."
Nielsen's store will include a wide array of items, which she said were at once time considered junk to someone else. These items were found unused and unwanted, so Nielsen would take them and repurpose them to serve as decorations or utilize them into more useful objects.
For example, Nielsen said she took an old, rusty rake head and combined it with unused wood pegs to create a stand of sorts. After placing close pins on the prongs, the once junked rake head now serves as a message board.
"The weirder the piece, the better," she said.
Nielsen's creations aren't just limited to indoor decorations, as she also creates fairy — or miniature — gardens.
She said she uses a tub or large container and uses plants that will remain small for their life to create a garden space. Then, to decorate she uses mini pieces of patio furniture.
"You literally create little patio stepping stones," she said.
Nielsen said that her favorite items to work on are children's items, having spent nearly 20 years painting children's rooms as well as painting with her own children when they were younger.
She said that she has been selling her items for awhile as well, twice participating in local events such as Junk Stock, which spurred on the idea of opening up shop.
"There were people asking, 'Oh, do you have a store we can come see?'" she said.
Nielson said that she had always wanted a shop and began looking for a location in downtown Papillion and Olde Town Bellevue, but gave Springfield a look after her husband Mike had suggested it to her.
"I fell in love with the place," she said. "It's the perfect location for this to really take off."
She said that she felt that with rapid growth and development such as Nebraska Crossing in Gretna, Werner Park in Papillion and other projects— all heading towards southwestern Sarpy County — Springfield sits perfectly within the path of development.
"It is kind of all coming this way," she said.
Nielsen said that the city's projects in redeveloping Main Street will also help business..
"They planned out the town well," she said.
She said that she is excited to work with businesses such as the Soaring Wings Vineyard as well as local festivals, such as the Sarpy County Fair.
"It just all worked out perfect," she said.
Nielsen is currently in the process of renovating the new location as well as moving all her items from her art room back in her Papillion home.
"I couldn't move around a whole lot in there," she joked.
She said that she expects the store to be open towards the beginning of March, adding that she has big plans and a lot of work for the location.
For instance, she said that the store has a fenced in lawn behind it, which she could use for classes in repurposing items.
"I've always wanted to do classes, now I have the space for it," she said.
Nielsen said people are able to see more of work on the Robins Nest Facebook page.