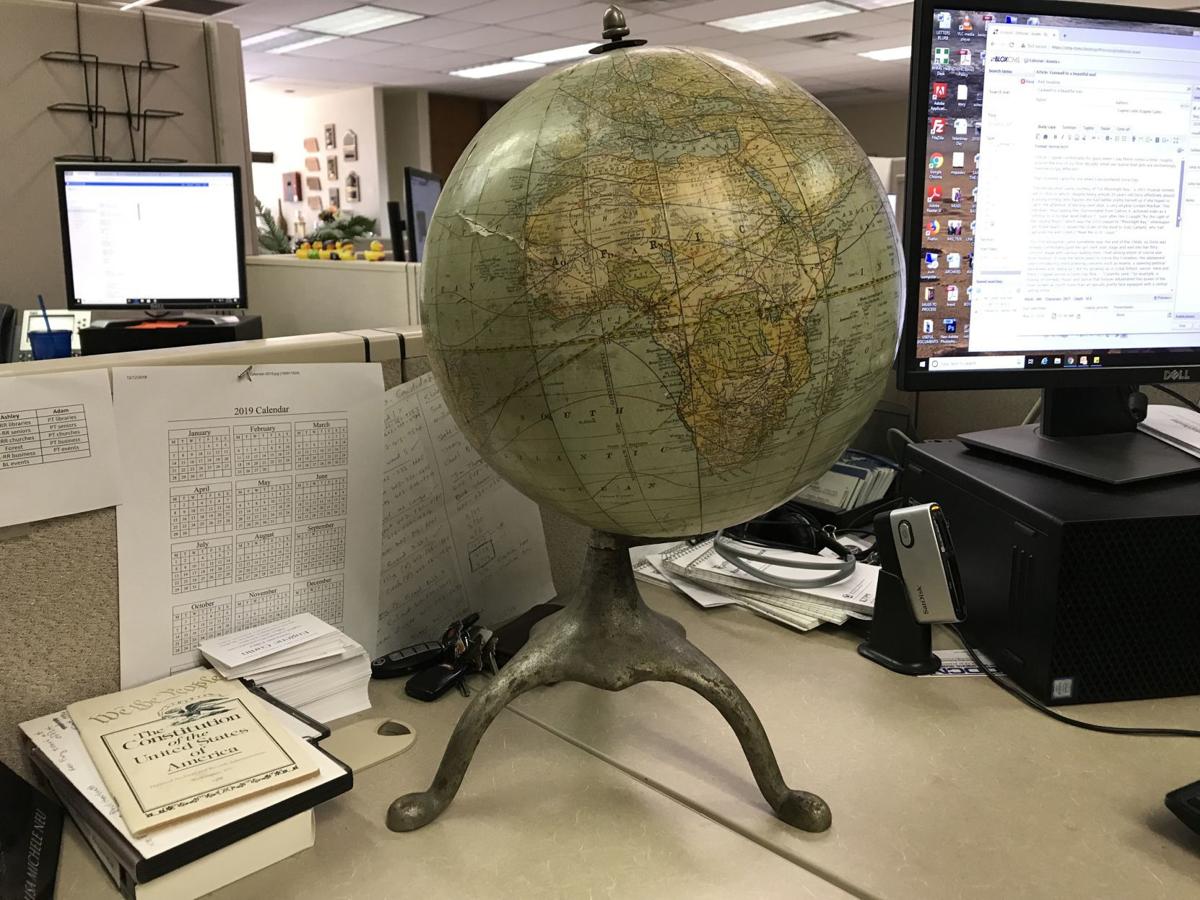 I have appropriated an ancient looking Rand McNally globe that sat in a gloomy corner of our office. Like a lot of "stuff" that accumulates in offices over decades it was just sitting there, unclaimed, forgotten, ignored and unloved. It has a very heavy — and heavily tarnished — silver clawfoot base and appears to be antique.
At first I thought I was mistaken about its age because the word "Russia" is emblazoned across that vast tract that used to be known as the Soviet Union. I assumed, then, despite its apparent antiquity, that the globe was post-1991, when maps and globes began redesignating the defunct Soviet Union as Russia.
Upon further examination, however, I noticed that Iran is listed as Persia, Arabia is not yet "Saudi" Arabia and Burma and Siam do not yet have their modern names of Myanmar and Thailand. And then, the greatest clue of all, I saw that glorious Constantinople had not yet been renamed Istanbul, as it would be in 1925.
Thus did it dawn on me that this globe, far from being post-1991, is, in fact, pre-1917.
For someone like me, who spends far too much time visiting the past courtesy of time machines masquerading as books, this was a sacred realization. This globe has a story, one that probably will never be known. Did it once sit in some long-demolished one-room schoolhouse in Sarpy County? Was it once perused — and touched! — by children whose names today survive only in our cemeteries? No idea.
But first, before I got all romantic about it, I decided to do an online search.
Within 15 minutes I located a photo of exactly my globe (Yes, I am asserting finders-keepers rights). I found it by searching for "Rand McNally New Twelve Inch Terrestrial Globe," which is the title printed on the globe just north of what is described as "Hawaiian Island." It was exactly the globe that now sits on my desk, with the exact clawfoot base, and it was dated 1891.
According to the U.S. Census, Sarpy County was home to 6,875 people in 1890, of whom about one third would have been children likely to have come into contact with the globe if, indeed, it is a school artifact.
One imagines the children of that era locating Cuba as Theodore Roosevelt led his Roughriders up San Juan Hill, or searching for the Philippines after U.S. forces put down an insurrection — or a war for independence, depending on where you sit. I can see them searching for the battlefields of France during World War I and identifying Normandy in the days after June 6, 1944. All, of course, if this is an educational artifact.
Perhaps it was a private possession, not much encountered beyond the bounds of a particular family, which would deplete its romantic value though not its importance.
Still, for one reason or another, it ended up right here in our office, whence it journeyed a further 30 feet to my desk.
So, Mr. Globe, whoever you are, and wherever you've been, welcome home, and do not for a moment concern yourself that someone out there on some internet auction website, as I discovered, has one just like you listed for sale at $1,800.
You're not going anywhere.