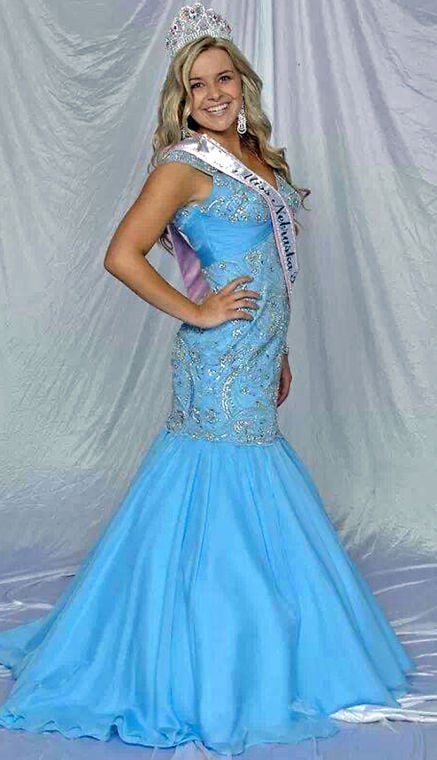 Courtney Vaughan has wanted to compete in beauty pageants since she was in the sixth grade.
At 17 years old, the Papillion-La Vista High School student thought she might be too old to start but she decided to give the Miss Nebraska Princess of America pageant a shot.
And taking that chance paid off. Vaughan won the highest title and will reign as Miss Nebraska Princess of America for one year before attending nationals in Branson, Mo.
"I always had that drive to do it," Vaughan said. "I achieved what I wanted in the long run, so I'm very excited."
Vaughan's mother had been against the idea of pageants, imagining them to be more like TLC's "Toddlers and Tiaras."
Vaughan said her mother expected other pageant moms to be "divas" based on what she's seen on television.
"My mom had a whole different perspective after this pageant was over," Vaughan said. "She got there and everything changed completely. She turned into my pageant mom. It was a great experience and made me and my mom closer."
Vaughan used money she saved from her telemarketing job to pay for the pageant entry fee and her dress.
"I had no idea how expensive it was going to be," Vaughan said. "But it was definitely worth it."
Going into the competition, the only experience Vaughan had was a two-hour workshop she attended in Lincoln.
"I learned a lot because this was my first pageant ever," Vaughan said.
In the pageant, Vaughan had to complete an on-stage question, interview and dance production. She also competed in an optional casual wear competition.
In addition to her title, she also was first runner-up in the casual wear contest and was named "Miss Personality."
"I felt really blessed after receiving that," Vaughan said. "I think what helped me to win it was interacting with all the girls."
Vaughan made an effort to meet girls from all of the pageant's age divisions. She even helped one contestant with her dress and encouraged a younger contestant who was afraid to go on stage.
"I think that the key to a pageant is to make friends with more girls," Vaughan said. "It makes it more enjoyable. To me, it was about making friends and making the best out of this experience."
What Vaughan is looking forward to most about her reign is completing community service.
She is planning her service with Town & Country Humane Society. She will also work with the Miss Amazing Pageant for girls with special needs.
Vaughan hopes to continue competing in pageants.
"Now that I have my title, I won't change at all," she said. "I'm going to be who I'm supposed to be. I'm Courtney. I'm not going to let the title get to my head."