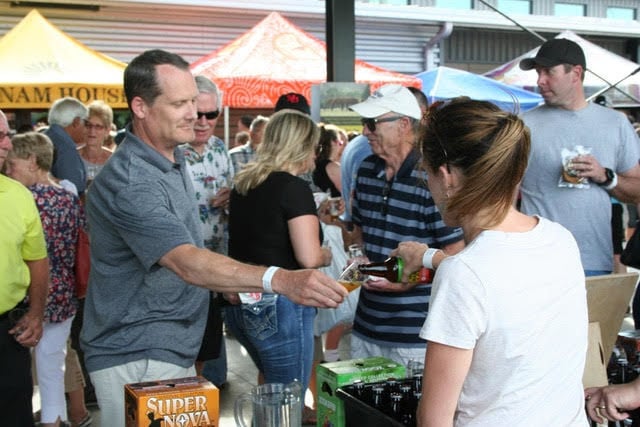 The Papillion Area Lions Club's Hops for Harmony, the region's largest craft beer tasting festival, returns to Werner Park on Wednesday, Aug. 25 at 5:30 p.m.
More than 70 different kinds of beer from more than 20 local Nebraska breweries will be on hand, such as Lucky Bucket, Soaring Wings, Pint 9, and Nebraska Brewing, among many others. Nine restaurants including Northwoods Cheese Haus, Good Life Sports Bar and Grill, and Lazlo's are providing specialty snacks to pair with the beverages.
Music will be provided by BluesEd, a nonprofit youth artist program affiliated with the Blues Society of Omaha. Since 2001, the program provides opportunities for talented middle and high school age musicians to play in a performing band.
The 19th edition of Hops for Harmony is a Papillion Area Lions Club fundraiser for Project Harmony, an interdisciplinary program that provides immediate support to children who are victims or suspected victims of abuse and neglect.
Bob Frederick of the Papillion Area Lions Club said Project Harmony annually helps nearly 5,000 area children. Approximately 50% of their clients have suffered from sexual abuse and 20% are under the age of 6 years old.
The nationally renowned program has law enforcement, 120 social workers, hot-line operators, a triage center and experts assembled under one roof for immediate aid. They also provide for the training of social workers through a joint program with the University of Nebraska at Omaha.
"It's just amazing," Frederick said.
The fundraiser is the largest annual event for the Lions Club, drawing more than 800 attendees in recent years. It hopes to return to form this year. To date, they have raised nearly $600,000 for Project Harmony and other projects. The club says 83 cents of every dollar goes to charity.
Michael Knier, the co-chair of Hops for Harmony, said the Papillion Area Lions Club was chartered in 1976 with 28 members. Now 132 members strong, he said this event, as well as three other annual fundraisers, "allows us to continue to do more of the service projects" for the visually and hearing impaired, area youth and other programs.
"Our budget is pretty large for a service club. We give out roughly $60,000 a year," Frederick said. "We wouldn't be successful without community support."
Even with the pandemic, without the aid of the club's fundraisers, the Lions donated more than $32,000 in 2020. The projects included $12,500 in scholarships to Papillion-La Vista high school students. Knier said most of those funds came from club members themselves.
Tickets for the Papillion Area Lions Club Hops for Harmony are $45 in advance or $55 at the door. Advance tickets are available online or at area Hy-Vee customer service counters. Each attendee receives a 5-ounce tasting glass for their brew enjoyment.