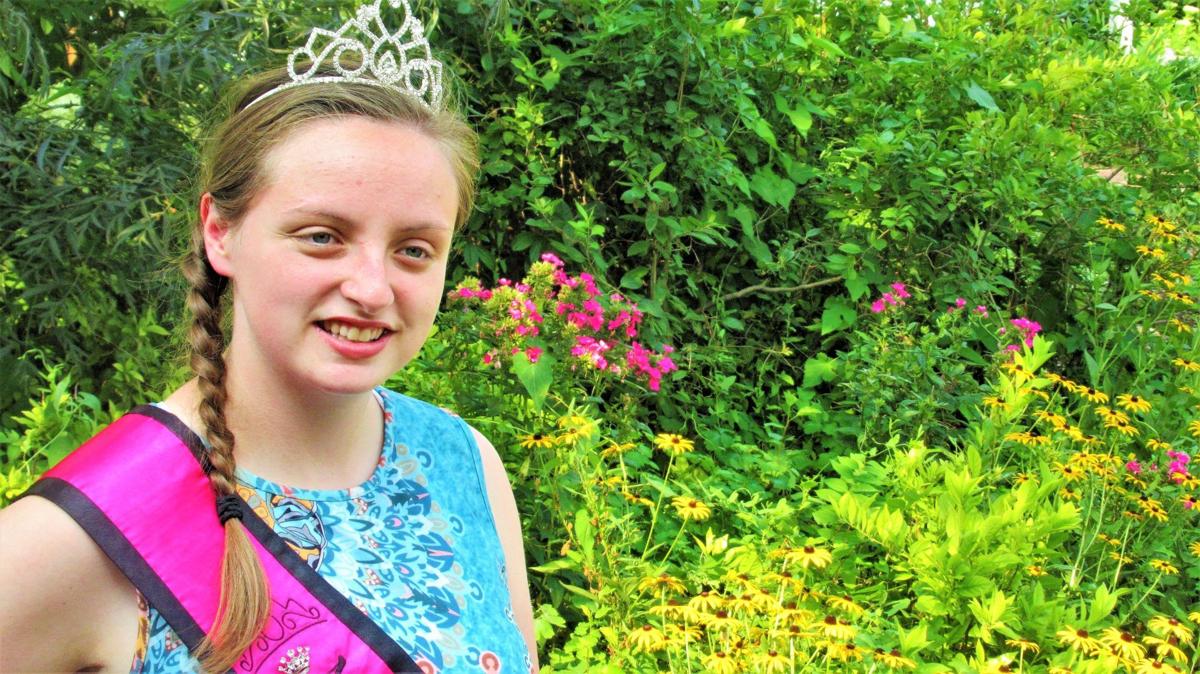 Ostensibly, this is a story about a wonderful La Vista woman who lives with autism, and through hard work is "going places."
The reality is, Tiffany Goodman has been places, moved on to the next project, stopped for a few adventures in-between and has things to do right now. This 22-year-old is a whirling dervish of activity.
Goodman and her mom, Lisa, sat down recently to discuss the latest event: a trip to Nashville to participate in the Miss Amazing 2021 National Summit in late July. Miss Amazing is a nationwide advocacy group that helps girls and women with physical and mental disabilities thrive in a culture where too few people appreciate their skills.
That's the simple explanation. Tiffany is the 2020 Nebraska Junior Miss Queen of Miss Amazing, also too simple a way to define her.
"(Miss Amazing) has given her a lot of self-esteem," Lisa Goodman said. "Confidence."
But Lisa said Tiffany has always been confident and outgoing. The kind of gregariousness led her to singing in the Papillion City Park at this summer's Papillion Days.
"It went pretty good," she said. "I was singing the Star-Spangled Banner acapella and that was something. Never done that."
She also rides horseback in the Special Olympics, as well as competes in swimming. While they were at it, Tiffany and Lisa also competed together in track and Bocce ball.
"It's relaxing," Tiffany said.
Her relaxation activities supplement a full work schedule. She helps her older sister provide home daycare in Lincoln, working with children through the pandemic. Prior to the shutdown, she did kitchen service and cleaned at area hospitals. There were also hospitality duties at a local hotel, with an eye towards a future career.
"I love to help people. It's like my favorite thing to do," she said.
All in addition to Tiffany's Miss Amazing responsibilities, which in the past few weeks included a meet and greet at Werner Park before a ball game and an interview by Scott Voorhees on KFAB's Community Matters program. She has an upcoming appearance at the Nebraska State Fair on Sept. 5 with pageant titleholders from across the state.
Tiffany and Lisa explain that Miss Amazing was started in Bennington by a student named Jordan Summers about 13 years ago with eight contestants as a school project. It now has chapters in 38 states and thousands of participants, with categories for contestants from 5 years old to well into adulthood.
It uses the outlines of a pageant in a different way. Their version, an "Amplify" event, seeks to teach self-advocacy skills for its differently abled competitors. In a one-on-one interview section, participants exercise practiced communication skills that could land a job or make social interactions easier. An introduction segment shows off public speaking skills and a chance to express ambitions and goals. Then, there is the "passion presentation," giving the attendees an opportunity to display their skills and interests.
Of course, it wouldn't be a pageant without gowns and fancy walking. Everyone needs a chance to shine.
For the last nine years, Tiffany has been a part of the Miss Amazing program. Her presentation has always included singing. It calms her, because her mother always sang to her, and she loves that.
"Singing helps me get my voice," she said.
Tiffany has been taking singing lessons, too. Her go-to song has been the Dolly Parton classic, "Jolene."
"The pageant has done a lot of things for her," Lisa said. "She used to have to sing with the voice behind her, now she can just have the music and sing by herself. She used to just walk across the stage with her dress on like, you know, you saw me I'm gone, and off. But now she goes out there, waves and twirls around. She's learning that this is her five minutes."
The state and national "Amplify" events are only a part of the multi-faceted Miss Amazing project. With events throughout the year, the organization said by investing in girls with disabilities, they nurture a strong community of leaders who push back against stereotypes and advocate for change.
That activism is desperately needed. Miss Amazing says only 34.5% of women with disabilities work for pay, compared to 40% of men with disabilities, and are 25% more likely to live in poverty than men with disabilities. Among women with intellectual disabilities, the rate of sexual assault is about 12 times the rate against people without disabilities.
Sometimes, the problem is something as simple as adequate transportation. The Goodman family has run into this, which may limit Tiffany's ability to find the career she wants. When children with special needs become adults, the challenges grow exponentially.
"Then the thing with us is, when a child graduates within our community, what do you do? Do you do guardianship? Do you do trustee? Do you file for Social Security? You are kind of all in it together, so it is nice to have a support group," Lisa said.
Tiffany's support group includes her mother and father, Matt, an older brother and sister, and Christopher, her man. She recently got a promise ring from Christopher, whom she met on the school bus when they were both students at Omaha Westside.
She remembers she was wearing her cheer outfit — because, in addition to every other activity, she also was a Westside cheerleader and danced at halftime during the basketball and volleyball games.
"I believe he thought, oooh, I found myself a cheerleader. And he did," Tiffany said.
For now, Tiffany is staying with her parents, who she has "all to herself." They are working towards her entering a hospitality training program, moving on to a job, a marriage, a family (two kids, names already chosen.) Just adding to the list of things-to-do.
It hasn't been mentioned yet, but she also plays catcher for her All Play miracle league baseball team for special needs kids, and is a Junior Leader for Young Life ministry.
This article was supposed to be about a young girl with Autism who went to a national pageant in Nashville with other special people to participate and learn self-esteem and self-worth. But Tiffany has that part covered. So, the pageant might not be that important in the end?
"I was kind of imagining I was winning. But apparently, I wasn't," Tiffany said.
It's not that she didn't enjoy herself. She got to see the Johnny Cash Museum, eat at a restaurant filled with aquariums, had one of her best pals come from McCook to watch her perform, and even stood on the stage of the Grand Ole Opry. On that stage is a circle cut from the floor of the Ryman Theater, where the Grand Ole Opry was broadcast from 1943 to 1974.
"I actually got to stand in the middle of it. That was kind of cool. I actually imagined myself standing there like Dolly Parton," Tiffany said.
Tiffany did not win the Miss Amazing national event in her category. She said she is ok, and that "I was still queen anyway." But there is one more chance in a couple of years in an older participant category to win. She has a plan.
First is continuing to fundraise her trips by making insanely complex beaded artwork pictures, which can be purchased on the Facebook page "Dotz by Tiffany."
The second part is a new song to present. "Jolene" is out. Green Day's "Good Riddance" is in. Tiffany said they are one of her favorites, and the only reason she would get in the car with her sister is if they promised to play the group. The chorus of the song is, well, fitting for Tiffany.
"It's something unpredictable
I hope you had the time of your life."