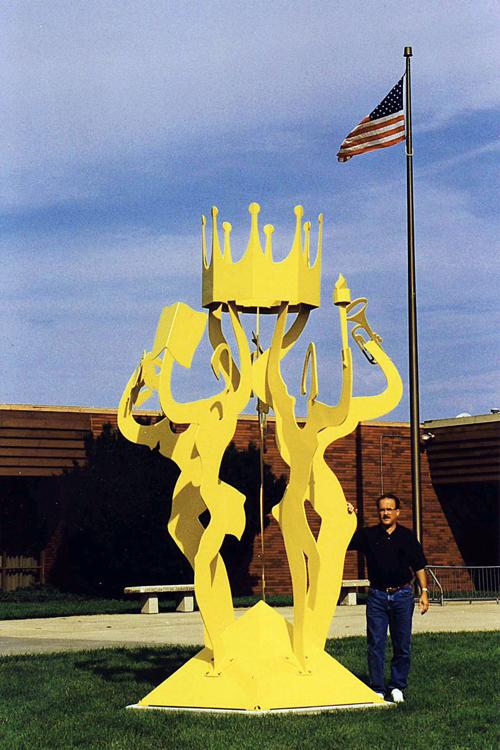 Local Papillion artist Al Rhea is aiming to touch up a project that he started 23 years ago.
That project is the yellow sculpture at Papillion-La Vista High School.
The whole sculpture has been removed from its usual location in front of the school and moved to the south of the building, next to the cafeteria.
The sculpture has a special place in Rhea's heart, as his late daughter Meredith Schleicher played a role in the creation of the art piece.
"She wanted me to make one for her graduating class in '97 and I think it's on the plaque that says it is dedicated to her class," Rhea said. "It really ran over schedule and I really finished it in 1998."
Rhea said Schleicher passed away in 2019 and he has a vested interest in keeping the sculpture in a nice location and condition.
He said he thinks the school is going to put it on the South side of the building.
"I would like to change the color, and it's painted in enamel which is not as durable as some of the new finishes," Rhea said.
He said now there are power coats where he could spray the sculpture to become more durable.
Rhea said he also aims to paint the sculpture to match school colors.
The statue has several meanings, there is one sculpture holding a trumpet representing the music department and another holding a book for educational achievement.
"There's a lot of representational meaning in that sculpture," Rhea said.
The sculpture itself is immensely heavy with each crown weighing around 250 pounds and the base of the sculpture weighing in around 500 pounds.
Rhea said the sculpture weighs around 2,000 pounds and to transport it he had to move each piece individually.
Rhea said he has been in contact with administration at Papillion-La Vista High School and said he could begin his retouching of the project as soon as construction at the school ends in 2022.