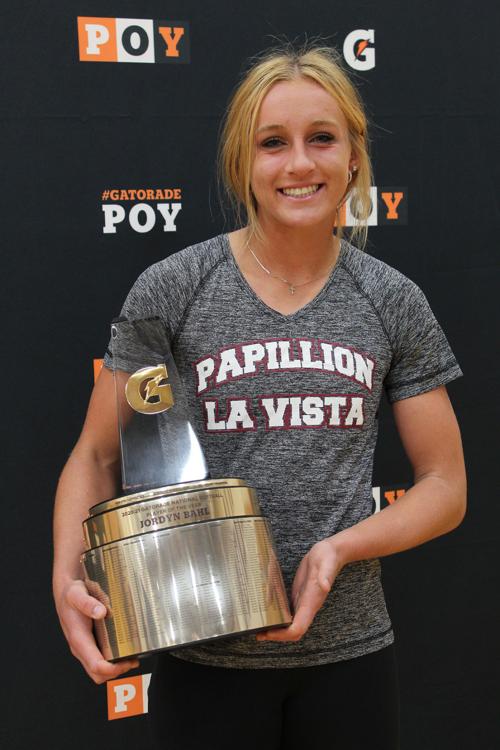 Last week's Papillion La Vista Community School Board meeting was ultimately a celebration of student success across academic and athletic disciplines.
At the June 28 meeting, PLCS Superintendent Andrew Rikli highlighted the most recent accolades, including Papillion La Vista High School's Jordyn Bahl. The newly graduated Monarch is the 2020–2021 Gatorade National Softball Player of the Year and is a finalist for Gatorade's Female Athlete of the Year.
Additionally, she is the Omaha Sports Commission Awards Female Athlete of the Year.
"This is a tremendous accomplishment for the team, the coaching staff, for the entire Monarch Nation," Rikli said.
Meanwhile, the U.S. Navy recognized the Papillion-La Vista Navy Junior Reserve Officers' Training Corps as a Distinguished Unit with National Honors for NJROTC Area Three.
The corps consists of students from both Papillion-La Vista and Papillion-La Vista South high schools. This is the first year for the award.
In a presentation to the board, Athletic Directors Jason Ryan (PLHS) and Jeremy Van Ackeren (PLSHS) highlighted the statewide success of the district's high schools. As two of Nebraska's 34 Class A high schools, with enrollment roughly in the middle of the pack, the Monarch and Titans more than held their own in achievements. This includes the Monarchs' State Championships in journalism and softball, and the Titans' second place finish in volleyball. Both high schools are Top 10 finishers for the Nebraska School Activities Association Cup. Standings encompass all finishes in NSAA sponsored team events.
"This also includes activities — journalism, speech, debate, music — so to have both schools finish in the top 10 is a cool thing," Ryan said.
There were also more than 30 individual championships, multiple qualifications for state competition, and many All-State and All-Conference athletic honors.
Other noteworthy events included the first-ever high school soccer game at Werner Park, a Titan band and choir concert at SumTur Amphitheater and a Monarch show choir concert at Omaha's Orpheum Theater.
Additional news from the board meeting:
• PLCS has been providing its free summer feeding program for children ages 1 to 18 years old at Golden Hills Elementary and La Vista Middle School. More than 10,000 meals are distributed weekly.
"It was, quite literally, a life saver for many of our families last summer, "Rikli said. "And we know that many of our families continue to hurt from the pandemic."
• Offutt Air Force Base announced Operation Backpack is scheduled for July 24 from 11 p.m. to 1 p.m. The intention is to give away more than 800 backpacks to school aged children kindergarten through eighth grade.