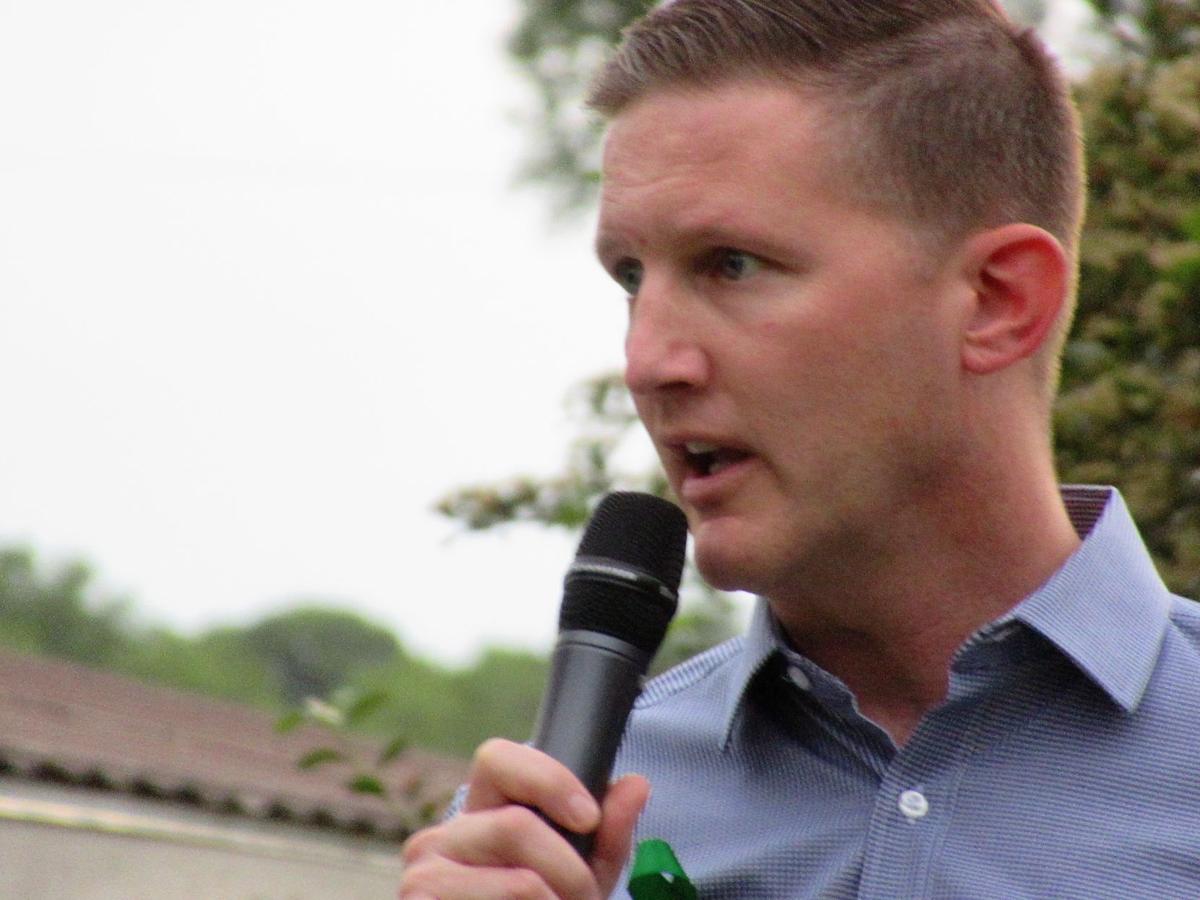 For 18 months, public officials have navigated in choppy and unforeseen waters, but finding a leader as barraged and besieged by circumstance as Papillion La Vista Community Schools Superintendent Andrew Rikli would be difficult.
The Papillion La Vista Community Schools have faced a global pandemic and a nationwide shutdown. Last spring, they created from scratch an online teaching platform, then devised a safe back-to-school protocol for the fall, all while educating 12,000 students in both realms.
This summer alone, the school district has agonized over a missing child, repaired facilities damaged in a freak windstorm and been steadfast for student safety as an organized parents' Facebook group asserts masks are a form of child abuse.
Yet, Rikli spoke of healing at the Aug. 9 school board meeting.
"Can we set aside our differences for a short while and give each other a bit of grace?" he asked the audience. "There has been enough bitter disagreement. There has been enough fighting. This community needs to bind up its wounds and heal itself."
Rikli, who has served as superintendent of PLCS since July 2013, said in a year-in-review/looking ahead interview that he still had faith in uniting the community and returning to a bit of normalcy despite enormous challenges.
"A really positive thing"
News reports in the last week revealed a rising level of heated vitriol across the region and around the country. While the PLCS policy says masks and vaccines remain optional for students and staff, it did little to soothe an abnormally large audience at the Aug. 9 meeting.
Elsewhere, Omaha and Grand Island public schools have temporarily reinstituted their mask mandates. Lincoln Public Schools' newly revised plan will require masks for its youngest students, spawning promises of protests at area schools by opponents.
"As I reflect on the meeting, when we have parents and community members and family members showing up to board meetings, actively participating in the democratic process and advocating for their children, I see that as a really positive thing," he said.
The district did decide it prudent to station a Papillion Police Officer at the boardroom door. Rikli does not recall having done so before, but they wanted "to make sure that our parents, our families and our staff know that their safety is top priority."
Before the pandemic, people would usually address the board on topics like boundary readjustments or bond proposals.
"We could quite literally go two, three, four months before a taxpayer would ask to speak," he said.
Public engagement with the board dramatically increased during the pandemic, as parents naturally asked about student health and remote learning as the shutdown began.
This summer, however, the board was peppered with grievances: a rejection of the efficacy of masks; criticism about proposed statewide changes to health education (which PLCS will not address in its curriculum for more than a year) and opposition to the study of Critical Race Theory (which is almost entirely used in analysis of the judicial system by legal scholars, not K-12 students.)
Many of the complaints have been repeatedly voiced by members of the Facebook group "PLCS Parents for Liberty," a group unknown to the board until they announced their presence last Monday. The "liberty" group has a membership of nearly 400, according to its Facebook page.
Meanwhile, in a recent PLCS survey of 3,783 parents, the district's COVID-19 response and its health protocols earned the approval of nearly 80% of participants. While masks and CRT studies are noted as "areas for improvement," so is the desire for consistent communication with teachers.
"These decisions are extremely complicated"
Rikli said there is no metric that would automatically trigger a mask mandate or shutdown as in other districts. In speaking with PLCS board members, he said if circumstances change "they are resolute that we will revisit this. What they do remains to be seen."
The district is in constant contact with the Sarpy/Cass Health Department, as well as taking guidance from the Centers for Disease Control, the American Academy of Pediatrics, the University of Nebraska Medical Center and the governor's office. There can be disagreements between agencies.
"When the governor of your state says, 'This is what I want to see happen,' that has to be a consideration," Rikli said.
PLCS introduced its back-to-school plan on July 12, when the SCHD reported 23 active COVID-19 cases. When Dr. Rikli was interviewed Aug. 10, there were a reported 205 cases in Sarpy County, with 56 cases among children newborn to 19 years old.
As of Sunday, the SCHD reports 316 active cases in Sarpy County and rising, with 73 cases among children newborn to 19 years old.
Public schools must reflect their communities and their values, Rikli said, as does any health directive.
"One of the great strengths of Sarpy/Cass County Health is while their first priority is public health, they also understand that these decisions are extremely complicated and they change day by day," he said.
"A relationship business"
Whatever may happen in the coming year, it is not hard to see that the end of the 2019–2020 academic year and the entire 2020–2021 school year brought a fundamental reevaluation of public education.
"It forced our staff to look at our teaching," Rikli said. "Not only how we teach, but what we teach. Not only adapting the methodologies, but the content itself."
With the United States nearly shut down in the spring of 2020, Papillion La Vista students, teachers and staff had to devise a way to work from home using technology. They were able to move 1-to-1 monitoring more quickly than anticipated, he said.
Educators and staff found efficient ways to meet in teleconferences, including parent conferences. A 20-minute parent-teacher discussion can pay dividends, he said. There is admiration for what instructors accomplished in that extraordinary time, but technology has its limits.
"Education is, at its very heart, a relationship business," he said. "It is really hard to replicate the camaraderie, the communication, the ability to look somebody in the eye.
"All those things face-to-face are hard to do on a Zoom call. We did the best we could, but it was pretty easy to see there was going to be a gap in performance."
Experts are just beginning to crunch the numbers on the effect the pandemic has had on students. A July report from McKinsey & Company, a worldwide management-consulting firm, said students could be behind by five months in mathematics and four months in reading on average.
This "learning gap" may not be as significant for the Papillion La Vista schools. In analyzing student progress using attendance, grades and standardized testing, Rikli said all students saw a dip in performance in the fourth quarter of 2020.
However, despite skepticism it could be done safely, the concerted effort by PLCS to get kids back in class for the 2020–2021 school year is showing dividends.
With 90% of students in school for the first semester, and 93% percent for second semester, in-person student performance was "pretty close to pre-pandemic."
"Public schools will always rise to the occasion. That's what we do. We make the best out of difficult circumstances," Rikli said.
As analysis continues, PLCS is using federal funding for Elementary and Secondary School Emergency Relief (ESSER III) to mitigate any of the pandemic's ill effects, either scholastically or emotionally.
"The statistics locally, regionally, nationally are pretty sobering. When you look at suicides, self-harm attempts, depression, anxiety, all of these things, have moved in the wrong direction in the last 18 months," Rikli said. "We have to be there to support our students and families. And that's exactly what we are going to do."
The district has a partnership with area mental health professionals to be available to students and staff, including embedded counselors for one-to-one assistance. The PLCS Crisis Hotline remains open.
"It was a challenging year, for so many different reasons," Rikli said.
Just as the school year was winding down in May, and PLCS was celebrating a successful year of academic and athletic achievements, the unthinkable happened.
Ryan Larsen, a sixth-grade student with autism, walked out of La Vista West Elementary School around noon on May 17. He was seen around 1:30 p.m. that afternoon on a surveillance camera belonging to La Vista Keno, across the street from the apartments where he lives. He has not been seen since.
"It felt like a total punch to the gut. Our number one priority is always going to be student safety," Rikli said.
He said there was daily, even hourly contact with law enforcement. They reached out to Ryan's mother, Tammy. Everyone hoped he had found a hiding spot. The anxiety only increased, despite all the community support and all the searching.
"Hope is a funny thing," Rikli said at a May 26 vigil for Larsen. "It takes a long time to create hope in something and it doesn't take very much to tear it down."
The PLCS remains in contact with the La Vista Police, and La Vista West officials continue to check in on the family. The district is doing what it can to keep the staff of La Vista West updated, and to support them, Rikli said. But there is loss, grief, anger and frustration.
"Staff is doing as well as can be expected, but they are hurting," he said.
There is pre-approved funding this year for upgrades to surveillance cameras in the high schools and middle schools. Elementary schools have enhanced controlled access for entryways, but questions have been raised why there are not surveillance cameras. Could that have made a difference in Larsen's disappearance? Rikli said it appears unlikely it would have, though officials are examining how to get elementary schools similar cameras.
Rikli said it is a numbers game. High schools and middle schools are like towns and small cities between 700 and 2,000 students. Simply, more students are covered in the upper grades.
"Routines and predictability"
With a summer spent on creating COVID contingency plans, opening new and refurbished schools, uploading thousands of tablets with software and purchasing a new rotating rack oven at Papillion La Vista South High School, it was, of course, good ol' Nebraska weather to create a final headache.
The storms that swept through eastern Nebraska on July 10 damaged PLCS facilities. La Vista Middle School had significant roof problems, leading to leaks causing the school's wood floors to warp. PLSHS also saw rooftop damage.
"It would be really easy to dwell on the negative, on the remote learners versus the in-person learners, and some of the natural disasters including the recent storm. But that's life. Some of those things are just going to happen. As a school district, you need to be prepared," Rikli said.
"On a positive note, one of the silver linings that came out of the last school year is that our community, and our parents and our families, have a greater appreciation as to what public schools do with challenges."
This year, there will be two focuses "with a laser like intensity" for the superintendent.
First, and always, is student achievement. Not only building on success, but also making sure any learning loss issues are addressed and overcome.
Second, and always, is the safety and well-being of students, the staff and all families. Rikli said that includes their emotional well-being.
However, the thing Rikli said he looks forward to the most is "getting our kids back."
"Things have a way of blowing up when our kids aren't in session, for a variety of reasons," Rikli said. "But when we get our kids back, and we get our staff back, and we get our families back into routines and predictability, and we are there to support them and support their needs, the world is right again."