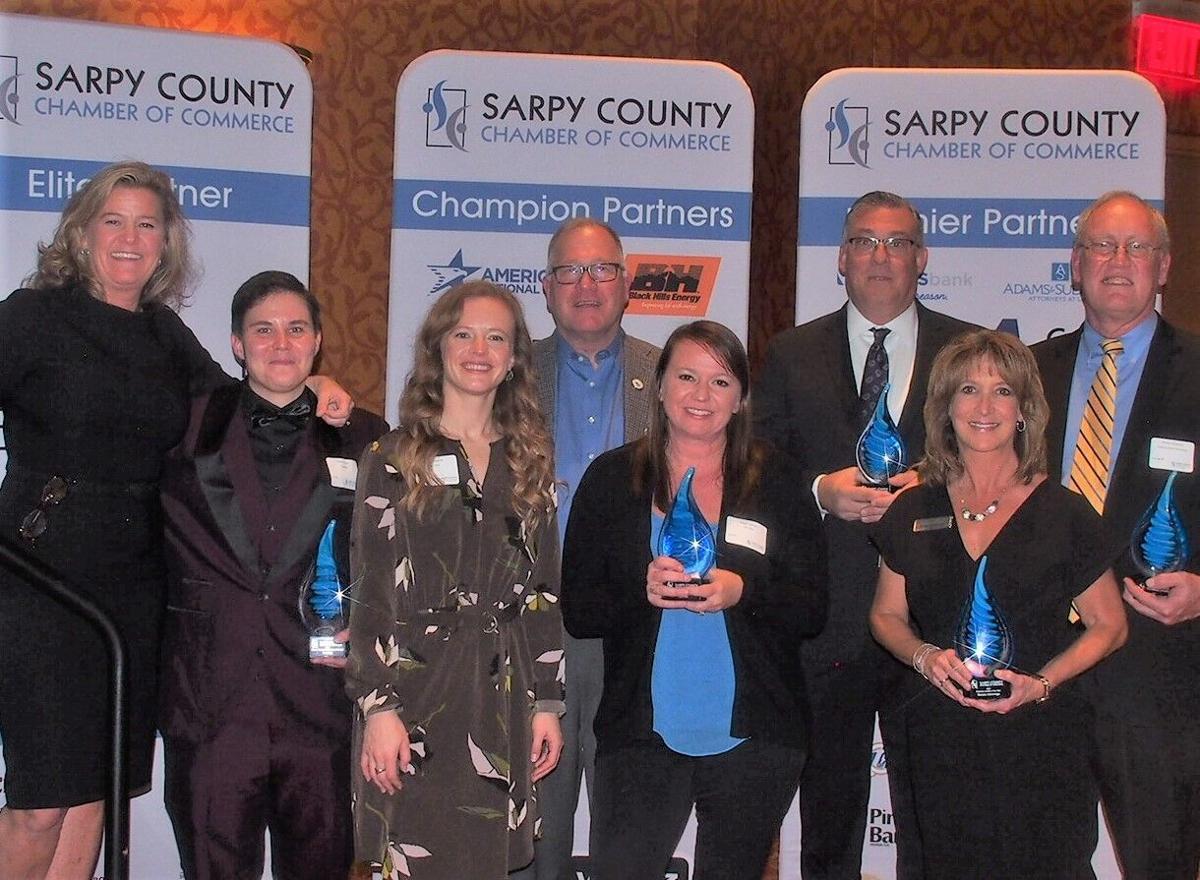 LA VISTA — Regional government, business and nonprofit leaders attended the 2021 Sarpy County Chamber of Commerce's Annual Awards Celebration on Wednesday, Nov. 3 at the Embassy Suites to recognize outstanding members of the business community.
The chamber said it was a celebration of a year of resiliency and growth.
Awards were given in six categories, and to special honorees for chamber excellence.
Sarpy County Board of Commissioners Chair Don Kelly was named the Elected Official of the Year. His vision to resolve issues at the county jail not only includes new facilities to address overcrowding, it will feature a dedicated mental health unit to reduce repeat offenders. Kelly has also been integral to projects that grow the county, like the expansion of Platteview Road and the Sarpy County and Cities Wastewater Agency.
PostNet of Papillion was awarded New or Emerging Business of the Year. Established in 2019, sustainability is foundational to their business with a commitment to "reduce, re-use and recycle," saving clients' money and minimizing their carbon footprint. PostNet also provides a variety of discounts to military, nonprofits, schools and churches.
The Heartland Equine Therapeutic Riding Academy (HETRA) in Gretna was named Nonprofit of the Year. During an average week, HETRA provides therapy services to 130 to 150 participants, including children and adults with disabilities. Among their staff, HETRA has 22 therapy horses, certified instructors and licensed therapists for occupational, physical and mental health.
Papillion's Kahler-Dolce Mortuary took the title of Business of the Year (one to 24 employees.) Kahler-Dolce supports area schools and organizations like the Sarpy YMCA, with yearly donations to its Strong Kids and Silver Sneakers programs. They have also sponsored events with the Midlands Community Foundation for over 40 years, the Papillion Police Department, Papillion and Springfield fire departments and Sarpy County Sherriff's Office.
Offutt Collision Repair in Bellevue was recognized as Business of the Year (25-plus employees.) To adjust to the pandemic, Offutt Collision implemented new online photo estimating software and updated to a 3-D measuring system. It allows customers to take pictures of damage without having to come into their facility. They are also focused on supporting and giving back to local schools, churches, chambers and men and women in uniform.
Renee Hennings was named Business Leader of the Year. With over 25 years of experience as an independent insurance agent, Hennings shows great leadership at UNICO in La Vista, as well as in the Sarpy Chamber T.I.P.S. Group Fusion. During the pandemic, she organized events to support local business and enlisted Fusion and UNICO to help collect food for the Tri-City Food Pantry.
Additionally, two Chamber Excellence awards were bestowed. The first went to the school districts of Sarpy County: Bellevue Public Schools, Gretna Public Schools, Papillion La Vista Community Schools, and Springfield Platteview Community Schools. The second went to Sarah Schram, health director of the Sarpy/Cass Health Department. Both recipients went beyond normal duties in order to keep the community safe and healthy during the pandemic.
During the celebration, Sarpy County Chamber of Commerce President Karen Gibler presented a financial report covering the past fiscal year. Gibler said the chamber had the best year in its history, and had its largest ever partner program with 44 businesses participating.
Gibler announced there would be no membership fee increases for the fifth year in a row. In fact, backing for the chamber's Small Business Support Program provided over 70 small businesses a chamber membership at no cost.
The report also highlighted progress on the chamber's new branding initiative, with new messaging, colors, and logo expected to debut next year. Gibler encouraged attendees to return to building relationships in person by getting active with the chamber. More than 175 events are planned for 2022.