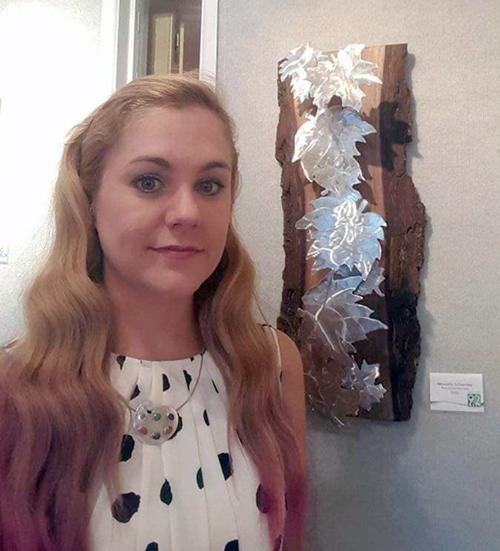 From the time she was young, Meredith Schleicher was never afraid of the spotlight.
As a child appearing in television commercials and print ads to her adult years where she had her artwork displayed throughout the area, Schleicher was never one to shy away.
Schleicher, 40, died Aug. 15. She was a lifelong Papillion resident who embraced her city and everything it stood for.
She was a member of the Papillion Art Council, was helping coordinate the city's 150th birthday celebration for 2020 and was both a coach and a commissioner for youth softball.
Being involved was something her mother, Debbie Rhea, said Meredith wanted to do from a young age.
"We always wanted to give our children opportunities to do different things and in grade school, she did all kinds of activities," Debbie said. "She started taking acting classes at the Emmy Gifford Children's Theater. A woman came to me and asked if she could be her agent. I thought she was joking, but pretty soon Meredith was doing radio and television commercials and appearing as a model in print ads for Pamida and Richman Gordman.
"Then when she was in high school, she was on the forensics team and in the art club. She did a variety of things, but whatever she did, she did well."
Meredith graduated from Papillion-La Vista High School in 1997 and after two years at the University of Nebraska-Lincoln, returned to get her degree in graphic arts from Metropolitan Community College.
She was a third-generation welder, like her father and his father, and soon found her niche creating art pieces from metal.
"She saw me and my dad weld, so she wanted to weld," her father, Al Rhea, said. "She took silversmith classes and would make her own jewelry. At her visitation, I had many people tell me stories that Meredith had about me and my art. So maybe she was a little bit of a daddy's girl."
Meredith had her work on display throughout the area, including the Sump Memorial Library and Papillion City Hall. She would share displays with both her father and her husband, Jason.
Al said he is going to paint a design on a Papillion 150 Butterfly bench in her honor.
"She was a big supporter of the bench project, so I'm going to do this one for her," he said.
Meredith and Jason lived next door to her parents, which allowed Al and Debbie to be very close to their 7-year-old granddaughter, Rhealynn.
"We could keep an eye on her and I actually took early retirement from teaching so I could handle daycare for them," Debbie said. "We're going to be there to help raise her. It's hard to lose a daughter, but we know Rhealynn will always be in our lives."
Debbie said the impact Meredith, who will be an organ donor, had on the community was evidenced by the 400-plus people that attended visitation and the funeral services. 
"It was kind of overwhelming, but in a good way," she said. "There were old teachers and many of her friends. They even got together afterward at Brownie's to share stories.
"There's been so much love and generosity and that's what's helped us get through this."
Meredith is survived by her husband, Jason, daughter, Rhealynn, parents, Al and Debbie Rhea, brother, Matt, and paternal grandmother, Gladys Rhea.
Be the first to know
Get local news delivered to your inbox!