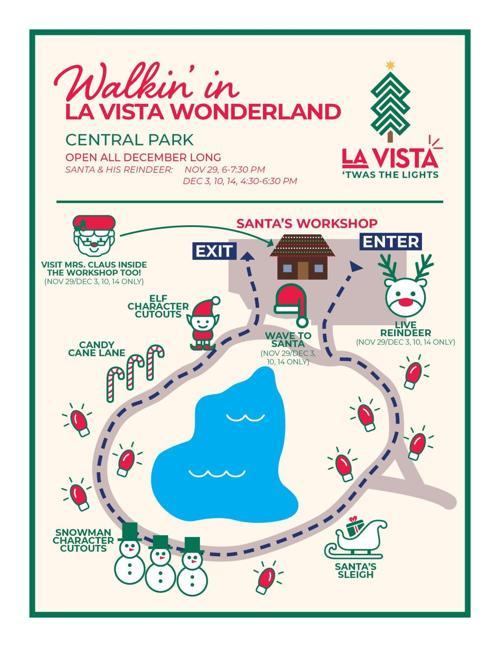 The annual Christmas Tree Lighting and Holiday Parade at Shadow Lake Towne Center is scheduled for Wednesday, Nov. 24 at 6 p.m. Join Santa and all of his friends at Highway 370 and 72nd Street in Papillion.
The Soaring Wings Tasting Room is hosting a Holiday Rosé Release Party at 17111 S. 138th St. in Springfield from 6 to 8 p.m. Buy a glass of Holiday Rosé and receive a free Sugar Cookie with purchase.
Return to Shadow Lake for the opening of Santa's Workshop. The workshop will be open until Dec. 24.
Friday Night Food Truck with Pomodoro Italian from 5 to 8 p.m. at the Heights Draft Room, 7861 Main St., Suite H in La Vista. Fresh made pasta and Italian dishes right out the front door. Also, have a special tapping of an Exile beer, Iowa's largest craft brewery. Brewed in collaboration with Kros Strain, "New In Town" in a German Lager aged on fresh peaches and Madagascar vanilla beans.
Come learn to embroider a dishtowel in a holiday theme at MJ Supply, 204 E. Grant St. in Papillion, from 11 a.m. to 1 p.m. This class will go over the basics of embroidery including stabilization, hooping, threads, using your machine, etc. When this class is complete, you will leave with a personalized dishtowel. Items to Bring to Class: Brother Sewing Machine, scissors to snip threads, size 11/75 embroidery needle, bobbin thread, quilters pins and other basic embroider/sewing supplies you might want.
Love Actually Brunch at the Alamo Drafthouse, 12750 Westport Pkwy, La Vista, at 11 a.m. Forget about Charlie Brown, "Love Actually" is the best way to celebrate Christmas. Without this masterpiece of a romantic comedy, there would be no love in this cold, cruel world. Order from our tasty brunch and pair with a brunch cocktail classic. Each is available to order along with our full menu at this special brunch screening
La Vista Wonderland is back. Central Park will be a wonderland of lights, photo opportunities, live reindeer and, of course, Santa Claus. From 6 to 7:30 p.m., these visits will be at a distance again this year to protect Santa and the kids. Guess who is joining Santa this year? Mrs. Claus will have special treats. More information is at CityofLaVista.org/TwasTheLights.
Santa has his list. Send him yours. Have you been good this year? Tell it to the Big Man himself, with the help of the City of La Vista. Starting Monday, write a Christmas letter to Santa this holiday season and send it off to the North Pole! You can ask Santa questions, tell him a story or draw him a picture. Write your letter by December 14 to receive a reply by Christmas. Drop your letters off in the special mailboxes at Santa's Workshop in Central Park or the La Vista Library. Be sure to include your name and return address so Santa knows where to send his reply.
Santa's Hotline is a joint effort between the Papillion Recreation Department and the North Pole to give the kids of Papillion and the surrounding communities the opportunity to talk with Santa Claus. Santa will be more than happy to call your child and wish them a Happy Holiday Season. If you have any questions, feel free to call 402-597-2061. Santa will be calling the Papillion area on the evening of Wednesday, December 15th between the hours of 5:30 to 8:15 PM. Get a printable form to register at: www.Papillion.org/Recreation (Go to the Special Events page.)
If you have an event or announcement for the weekly calendar, Email details to adam.branting @papilliontimes.com. There is no cost. The deadline to submit items is 5 p.m. on the Friday before our Wednesday publication. As with all submissions, the Times staff reserves the right to prioritize items. For information, call Adam Branting at 712-325-5715.