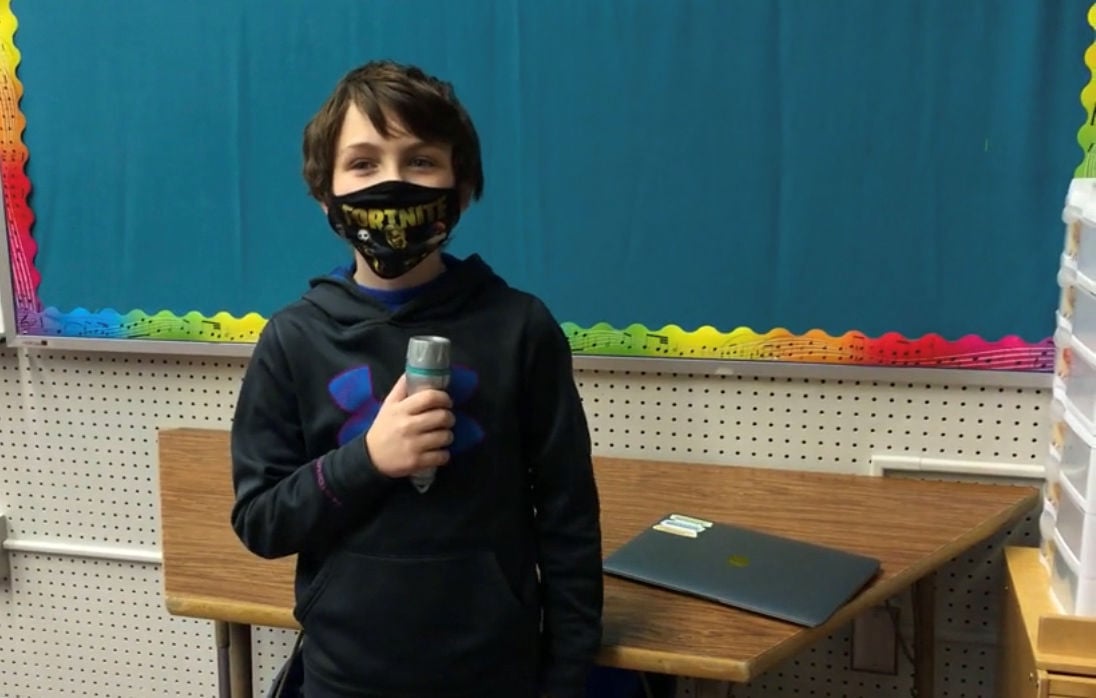 Meadows Elementary School is taking effort to spread good news amongst its students and community.
The "All in Good News Show" is a video series wherein students voluntarily share something from their lives that they view as good news.
For example, Jaxson Guy shared the news that he recently became an older brother again.
Meadows Elementary teacher Casey Schoening said the "All in Good News Show" was in part inspired by actor John Kransinksi's online news show "Some Good News."
She said herself and school counselor Maria Carabantes took over this project after High Ability Learner teacher Corrie Suhr, who started the project around August, found out her assignment wouldn't be in the building this year.
"It just made them really excited to share their good news," Carabantes said.
Carabantes said the goal of the project is simple: for students to be able to share the good news in their lives.
"I know a lot of our students are feeling sad and we just wanted to help them share some positivity and some good news to see that there still is a lot of good happening right now," Carabantes said.
"All in Good News" utilizes video software known as Flipgrid for students to upload videos of themselves sharing good news to the platform.
Schoening said students can submit videos to Flipgrid and then everybody can see the student's video.
Users can post a question and then people can respond to the question and then Flipgrid puts community responses in a grid shape.
"It's a really kind of a cool way for kids to respond to these things that we can't necessarily do in person," Schoening said. "We did a lot of Flipgrid when we were all remote, back in the spring, we did a lot of communication with our kids. We have Flipgrid because it was easy to have them record something at home and then it all went to one place."
Carabantes said the pair has created a Google questionnaire and students are able to fill that out.
"A lot of them don't really know how to get there so they usually tell their teacher or they tell one of us and we kind of walk them through that process of filling it out," Carabantes said.
Both Carabantes and Schoening said the students that have participated have enjoyed the process so far.
"I know that they feel really proud to have an outlet to share because right now we aren't really able to see other people from other grades in other classes and to share those things out, so we have given them an outlet to kind of communicate with other people that they don't see," Schoening said.
Another example of how the school has utilized Flipgrid is the presentation of the Halloween parade.
Last year students were able to walk around and interact with each other during the Halloween Parade but because of the coronavirus pandemic that could not happen this year.
Because of Flipgrid, students were able to be in their classrooms and go through a slide show to see their peer's costumes.
Carabantes has used Flipgrid to teach Meadows students about several emotions such as anger, while another video exlpores boundaries.
"I am not in the classroom, so I don't get to teach guidance," Carabantes said. "But, one way that I came up with still kind of being in the classroom is kind of putting myself out there and still teaching some sort of guidance lesson."
Carabantes said the video format is engaging for students and allows her to continue to teach students important life skills.
Schoening said the pair started out with a goal of posting one episode of "All in Good News" per month but have not received as many student submissions as they would have liked.
Currently there is no set schedule for when the episodes will release.