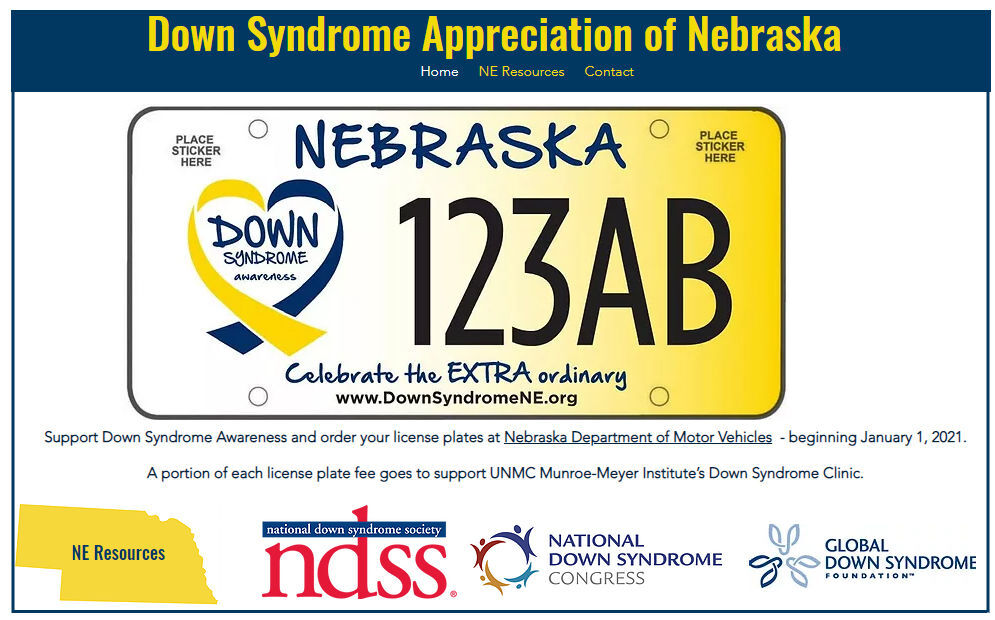 Specialty license plates raising awareness for Down syndrome will be available in Nebraska beginning Jan. 1, 2021, fulfilling the goal of a group of Omaha dads.
The new plates, allowed for by a law recently approved by the Nebraska Legislature, were sought by Dads Appreciating Down Syndrome of Omaha, a group of fathers and father figures of individuals with Down syndrome.
Mark Kuecker, president of DADS, said some proceeds from the plates will be donated to the University of Nebraska Medical Center's Munroe-Meyer Center for Down syndrome research. The alpha numeric plates will cost an extra $5, with all proceeds going to the Munroe-Meyer Center. Personalized plates will cost an extra $40, of which $30 will go to the center.
The idea to create the license plates came at a DADS meeting several years ago, Kuecker said, when a member of the group mentioned existing plates for other causes.
Other specialty plates include those for mountain lion preservation, the Henry Doorly Zoo and military veterans.
The group initially submitted the idea through the Nebraska Department of Motor Vehicles, Kuecker said, but could not obtain the 250 required requests for the new plates. DADS then reached out to State Sen. Rick Kolowski of Omaha, who agreed to introduce the new plate as a bill, which was co-sponsored by Sen. Lou Ann Linehan of Eklhorn.
The recently approved legislation allows for four other new plates: "Donate Life" plates, "Pets for Vets" plates, "Support the Arts" plates and "The Good Life Is Outside" plates.
Kuecker, whose 16-year-old daughter, Ellie, has Down syndrome, said the new plates will bring awareness to families of recently diagnosed children and the public at large, which could improve the lives of individuals with Down syndrome. The plates list the organization's website, he said, which has resources for families.
"There's an opportunity for us as a society to really be aware of these individuals," he said.
Kuecker said he's looking forward to seeing the license plates on vehicles on the road.
"I want everyone else to share that love and compassion that I have for my daughter," he said.
Be the first to know
Get local news delivered to your inbox!