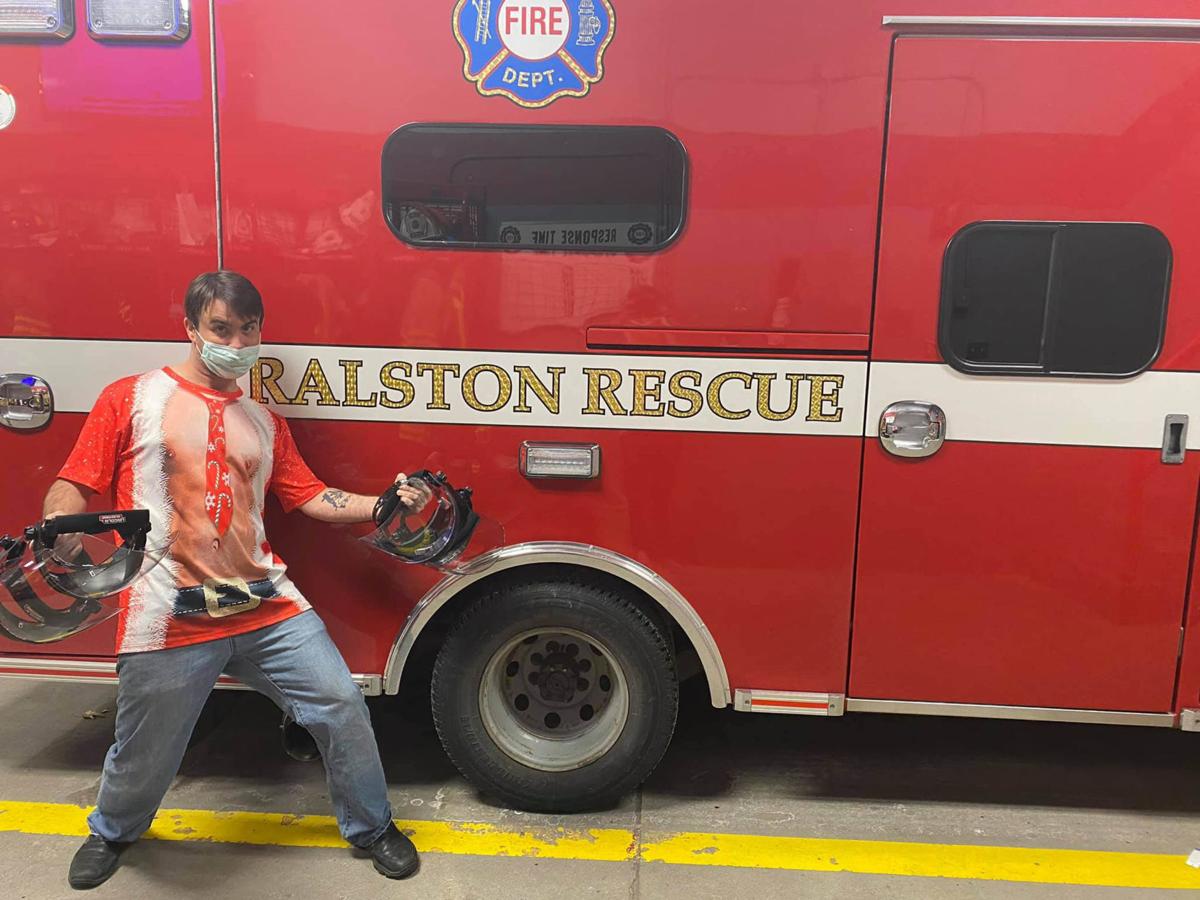 Charlie Wilkins, a Ralston High School graduate and current La Vista resident, is making it his mission to outfit frontline workers with face shields to wear during the coronavirus pandemic.
Wilkins, who works the overnight shift at Nebraska Medicine as a paramedic and a noninvasive cardiac tech, said he got the idea behind collecting face shields when he noticed the nurses had face shields bought for them by the doctors.
"Of course me being me, I was like, well, what about us paramedics?" Wilkins said.
Wilkins said after he bought himself a face shield, he realized it would benefit the other paramedics if they all had the same quality face shield.
Wilkins got further inspiration to collect face shields from his friend and fellow non-invasive cardiac tech, Maddy Dore.
Wilkins loaned Dore his personal face shield and afterwards she began to crowd fund for more face shields for the non-invasive cardiac department.
"I sent up a request through the CARES Act and it didn't go anywhere, I sent a request up through my supervisor at the paramedic level and she was telling me that was not going anywhere," Wilkins said, "I decided that the community can move faster than the U.S government can."
As of writing this article, Wilkins has collected 62 face shields.
According to Wilkin's Facebook page, "75 shields will essentially outfit all paramedics working in hospitals, Ambulance services for rural areas where funds are always tight, and other front line healthcare workers working day in and day out helping care for patients and attempt to help us return to some sense of normalcy."
He said when the pandemic began paramedics had plastic face shields that collected sweat and became grimy.
"When you cleaned them off properly, and if you had your name written on it, the name would get stripped off," Wilkins said.
Wilkins said the Lincoln Electric OMNISheild face shield he bought for himself and hopes to outfit other paramedics with, provides both enhanced comfort and a morality boost to the workplace.
"I'm not going to say that morale is low, I'm not going to say that it sucks, but it sucks, there's days where you're tired and just feel like you're getting shit on all the time and getting beat down," Wilkins said.
He said although he and other staff get mask breaks in their 12-hour shift, he does spend around six hours in the COVID unit wearing a mask in tandem with his face shield.
Wilkins said the paramedic department has banded together and are charging through the pandemic together.
He said he does not know how to describe the feelings he has been getting as a result of the generosity to the community.
"I'm overwhelmed with the generosity, but I'm not surprised," Wilkins said, "I am surprised in the sense that all I asked for was a minimum of 12 face shields, hoping to get 25 so that we can cover every single paramedic that works in the hospital and have enough left over for new hires."
He said his goal is to outfit all in-hospital paramedics, volunteer fire departments, respiratory therapist and teachers with face shields throughout Omaha and surrounding areas.
Through Wilkins' efforts, he has been able to outfit the Ralston Volunteer Fire Department and paramedics in Boys Town, CHI Health Creighton University Medical Center — Bergan Mercy, CHI Health Immanuel Hospital, Methodist Women's Hospital and an entire floor of the Omaha VA.
Those interested in donating a face shield to Wilkin's cause can do so by visiting https://tinyurl.com/y8xbl8bt and select the face shield from the list of items.