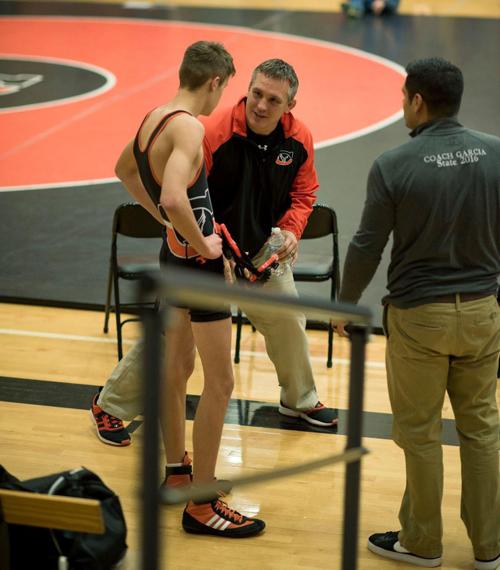 With 18 years of coaching experience under his belt, Ed Schmitt is prepared to lead Ralston High School wrestling.
Schmitt was recently named the head wrestling coach at RHS.
Before coming to Ralston, he was named the Kansas 4A Assistant Wrestling Coach of the Year in 2009, 2012 and 2016.
Schmitt is an accomplished wrester in his own right, garnering two NJCAA All-American and two NAIA All-American honors at the collegiate level.
He was a four time Nebraska state placer, two-time finalist and a one-time state champion.
"I'm just really excited for the opportunity, I got some different practice plans that I plan on breaking up throughout the year, getting ready for preseason, the middle of the season and post season," Schmitt said.
Schmitt is taking the helm of a program that just finished in the top ten at the Nebraska State meet.
This year, Ralston had two state runner ups alongside a fourth and fifth place finisher at the state tournament.
Schmitt said one goal he has for the team is to fill in more weight classes.
"We need to be able to fill more weight classes, we lost some good ones and they'll be tough to replace for sure," Schmitt said.
Mike Smith, assistant principal and the activities director at RHS, said Schmitt has a proven track record as coach.
"He's taken over a program that's in really good shape," Smith said. "Mr. Fink's done a great job over the years and so he's got a good foundation."
Wrestling and coaching accolades aside, Smith said it is Schmitt's ability to connect with kids that stands out most to him.
"I like listening to Coach Schmitt speak individually with students," he said. "When he's with athletes, when he's teaching them, I like his demeanor, I like his preciseness. He does it in a way where the kids have confidence in him."
Schmitt said the prospect of refining the sport of wrestling in the area, not just for the high school, is what he looks forward to.
Schmitt is an assistant coach for the local youth wrestling program and, although sometimes high school meets get in the way of him being at youth practices, the results have shown that the youth program produces results.
The youth wrestling team took 10 wrestlers to the state tournament this year and had several placers.
"It's kind of exciting to see those guys coming up," Schmitt said. "I'm recruiting, trying to get more kids out for the sport definitely when they're younger, getting involved with the middle school and just trying to set this program."
Schmitt said there is no substitute for a good youth wrestling program.
"It's not that kids can't be successful without it, but it does give them a leg up," Schmitt said.
Schmitt also started a separate youth weight lifting program as an introductory unit for young kids.
The youth weight lifting class meets twice a week on Mondays and Wednesdays at 5:30 p.m.
Schmitt said the goal of having kids in the weight room at a younger ages is to have fifth through eighth graders be more comfortable in the weight room and have them be more knowledgeable about different exercises and workout routines.
"It's to help build all sports and get more kids involved and get them to start seeing the process of how to get better, see improvement in form and technique and strength," Schmitt said.