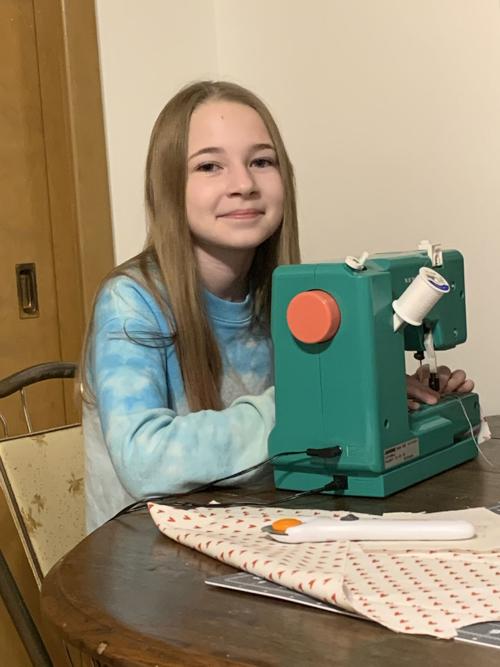 One student at Seymour Elementary decided to take her interest in sewing and channel it into a business that sells cloth masks, among other products.
Avery Stephens, sixth grader at Seymour Elementary, said she got her interest in sewing from watching her grandmother.
"When I was little my grandma would sew a lot for us when she watched us and made things like dresses," Stephens said.
She said her first personal sewing machine was a toy version that did not actually do anything, but she eventually graduated to a real machine one year for Christmas.
Stephens said she can make a mask in ten minutes if she is going fast and is getting better the more she makes.
Stephens started making masks in August for her friends and after the feedback she received, decided to sew masks for a larger audience.
"I started out with only four fabrics, but then I started getting a lot more and it was hard to show people all of them, so I made a website where they can scroll through all of them," Stephens said.
She said it makes her feel good knowing she is giving people masks with a nice fabric so that they can have something other than a plain surgical mask.
Jody Blessen, Seymour Elementary School principal, said she and the rest of the school staff are proud of Stephens' endeavors.
"Our goal is to always develop the self-directed learner and using their creativity and Avery shines in that category all the time, she's always thinking forward," Blessen said. "It feels like she's reaching for her goals and that's what her teacher strives to help her with."
Seymour Elementary does have a Makerspace to encourage creativity in students through hands-on activities.
"Last year we had something we call Maker Mondays, it's an after-school club and students can come do some Makerspace activities," Blessen said.
Blessen said because of the pandemic the school has not been able to do as much hands-on activities but will bring supplies to classrooms as needed.
Stephens is now making several other products including ChapStick holders and scrunchies.
Stephens had sold around 100 masks as of Jan. 22.
She said her fabric bin at home is almost full so she encourages those that want to donate materials to do so by donating to the Makerspace at Seymour Elementary School.
"We're always looking for supplies for our Makerspace here at Seymour," Blessen said.
Those interested in donating can call Seymour Elementary at 402-331-0540.