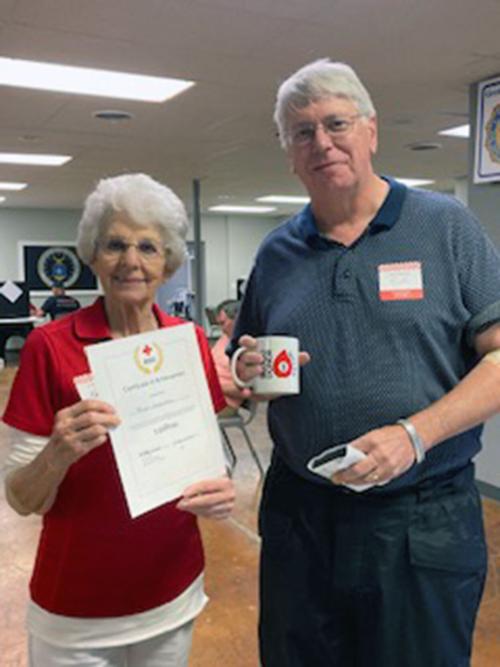 The July 12 blood drive hosted by the American Legion Auxiliary Unit 216 collected 74 units of blood. The goal was 63units.
Receiving gallon awards were: Steve Moore, 1 gallon; Sharon Laughlin, 5 gallons; Kent Johansen, 5 gallons; Janice Wear, 12 gallons; and Wayne Gundvaldson, 13 gallons. Their lifetime donations have benefited 864 patients. Congratulations donors; good job.
Other willing donors are Wendy Nepple, Gene Schwarting, Davin Clayton, Allen Wilde, Shannon Hildebrand, Shannon Leiting, Brian Schlautman, Rebecca Stauffer, Sandra Scheef, Laura Knoll, Lori Wagner, Suzan Lehan, Debra Benes, Karen Zoerb, Bonnie Cushing, William Gillespie, Mary Mosby, Loren Katt, Kathy Iske, Joe Carney, Terry Wiese, Theresa Guliza, Anita Oneill, Duane Turpen, Angela Lauritsen, Margaret Broz, Nancy Turpen, Debbie Abbott, Carnia Rolf, Myrob Deterding, Jessica Rausch, Velma Workman, Rita Mason, Larry Morrison, Jordan Raszler, Debra Edwards, Anton Vanek, Teresa Roll, Miles Hubert, Christy Wurtele, Karryn Wilcox, Allie Hopkins, Maarla Wohldmann, Sonya Shaw, Ron Liermann, Jon Miller, Josiah Warren, Debra Vanderweljden, Maryjo Coufal, Alan Wineinger, Scott Erlenbusch, Douglas Coufal, Sara Clegg, Charlotte Iske, Allison Kluver, Tammy Habrere, John Samuelson, Jenny Kiolbasa, Jane Boerger, Gail Soe, Sheryl Gaston, Amy Beran, Katherine Glasnapp, Thomas Wohldmann, Christopher Ott, Janell Ronk, Gabriel Ronk and Craig Keller.
Volunteers working the blood drive were Peggy Cherveny, Linda Gillespie, Charlotte Pfeffer, Kathy Mazur and Kathy Iske.
Special thanks to our dedicated donors who answered the call for the shortage of blood needed by so many patients!
The next American Legion Auxiliary Unit 216, of Leonard Conley Post 216, blood drive will be Nov. 8. May God bless us all. Be safe and see all of you in the fall.