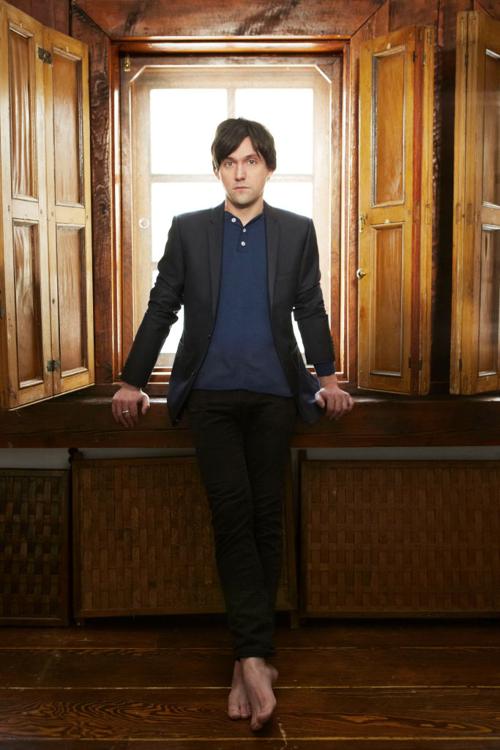 Ahead of his hometown show on Wednesday, Conor Oberst talks about perceptions, his conversational style and his major-label album release.
Conor Oberst — indie rock star, so-called "voice of a generation" and one of Omaha's biggest musical exports — is back.
Best known as the frontman of celebrated indie rock band Bright Eyes, Oberst returns as a solo musician with a confessional album, "Upside Down Mountain," that tackles death, fame and love.
The album is a big step for Oberst. It's his first on a major label. It's his first true solo album (two earlier efforts were with the Mystic Valley Band).
In a recent interview — his first with The World-Herald since 2010 — Oberst reflected on the past, the future and memories, all things that come into play on his songs.
"It's not exactly a new theme for me," he said in an email. "I'm pretty sentimental, even though I always want to keep moving forward."
He added: "Bit of a contradiction, I guess."
Now 34, Oberst still battles a bit with his younger self. As a teenager attending Creighton Prep in 1993, he released his first collection of songs, "Water." His subsequent albums were released on Saddle Creek Records when he was still a teen, and he admits he doesn't relate to a lot of that material anymore.
Some hold up better than others, he explained, and those will still make it into his live sets.
"The rest are best left in the past," he said.
"Upside Down Mountain" does away with the cryptic lyricism of recent Bright Eyes releases, Oberst said.
"I wouldn't call it 'confessional' because much of what I write is not autobiographical," he said. "I prefer the word 'conversational.' "
Oberst often looks to the past in his new songs, he said, adding that it's tough for him to live in the moment.
"I think that is just human nature, and a lot of people have a nostalgia for times they never even lived in, which is interesting," he said.
Oberst has long struggled with people's perception of him. Called a boy genius, the next Dylan and the voice of a generation, Oberst has a little fun dropping the line "I hope I'm forgotten when I die" on his new album.
"It is a bit of a snarky line, but it is getting at the idea that if I'm no longer around to actually represent myself, I hope no one talks about me because they will surely get it all wrong," he said.
Though he hasn't addressed it in song yet, this past year has been turbulent for the indie star.
In December, a woman publicly accused Oberst of sexually assaulting her more than a decade ago. The accusations were detailed in comments left on the website xoJane and later through her own blog on Tumblr. The woman's original comments and her Tumblr account have since been deleted.
Oberst shot back with a statement vehemently denying the accusations or that he had ever met the woman.
After she refused requests to publicly retract her statements, Oberst filed a libel lawsuit that seeks $1 million in damages. If he were to win the lawsuit, he said he would distribute the money to charities supporting victims of violence against women.
When asked about how the allegations have affected him and his family, he said he couldn't comment because of the ongoing case.
"But I will hopefully be able to soon," he said.
Oberst canceled a tour with Desaparecidos because of the controversy, and the songs for "Upside Down Mountain" were finished during his time off from the road.
"Upside Down Mountain" had a strong debut at No. 19 on the Billboard albums chart. It's his first on a major label, though record companies have courted him since his first releases.
When Oberst was 22, Nonesuch president David Bither attempted to sign him after hearing Bright Eyes' much-lauded "Lifted or The Story Is in the Soil, Keep Your Ear to the Ground," Bither told Spin magazine.
Oberst declined the offer, preferring to stay with his friends at Saddle Creek.
He has had other albums on indie labels Merge Records and Shangri-La Music, but releasing now with a major label was the right step, Oberst said.
He credits Nonesuch, which is a subsidiary of Warner Bros., as being one of the coolest labels in the world.
Saddle Creek and its bands and employees still hold a place in Oberst's heart, but he needed something different.
"It is complicated because of friendships and shared histories, but life goes on, and I was ready to try something new," he said.
If you've seen a lot of Oberst's face lately, it's likely because of the label switch.
His major label debut has come with a major label marketing push. Oberst is this month's Spin cover story, and he has appeared on "The Tonight Show" and "CBS This Morning" among other radio, TV and web shows.
On Wednesday, he'll appear in his hometown at Sokol Auditorium. Backing him will be Dawes, another popular indie folk rock band that Oberst met through producer Jonathan Wilson.
"Upside Down Mountain" was recorded with Wilson in Nashville, and Oberst also worked on songs at ARC recording studio in Omaha with Andy LeMaster.
Oberst still calls Omaha home, though he and his wife, Corina Figueroa Escamilla, a musician he met in Mexico and quietly married in 2010, also sometimes reside in New York City.
Oberst said Omaha is admirable for its creative culture and, these days, the large number of places for bands to play.
"When I was a teenager, it didn't feel that way to me," he said. "Maybe I wasn't in the right part of town."