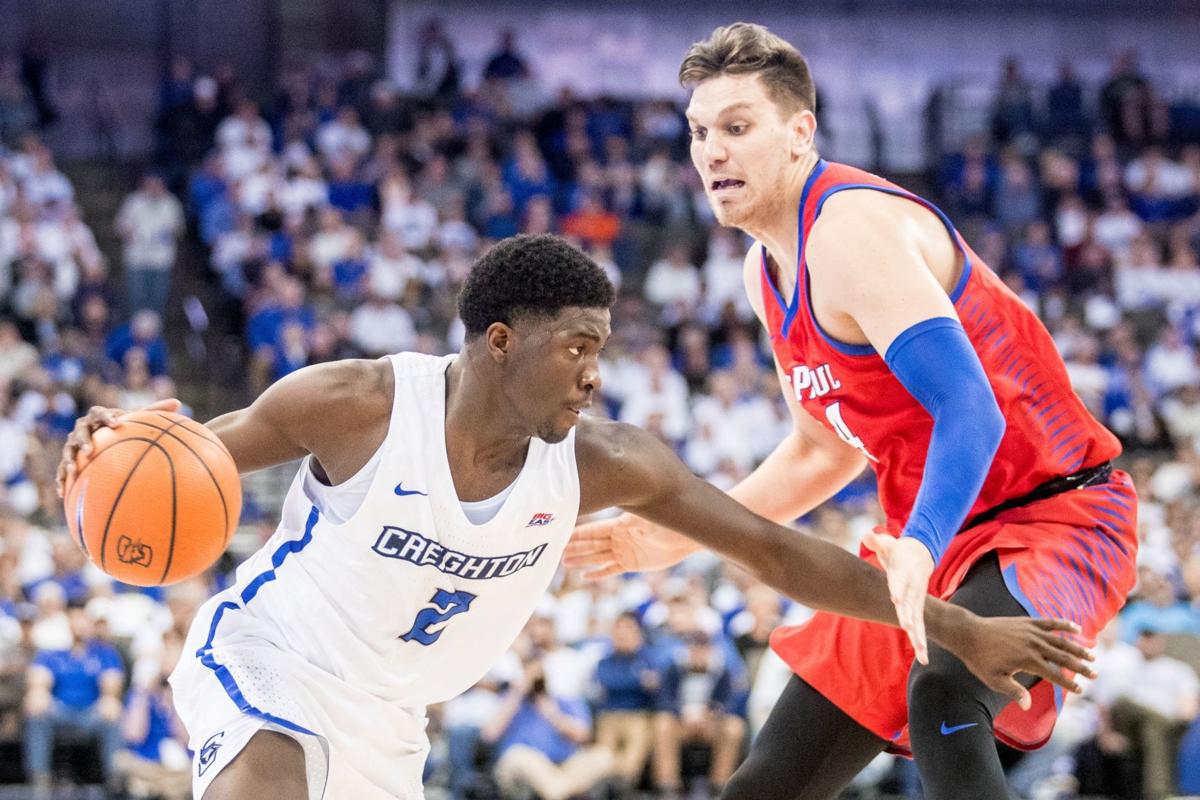 Creighton's Khyri Thomas will take a few more weeks to determine whether he wants to turn pro or play one final season with the Bluejays.
The versatile junior guard on Monday declared for the NBA draft. But he did not hire an agent, leaving the option open for him to retain his collegiate eligibility. He'll have until May 30 to decide.
ESPN's Jeff Goodman first reported the news. The World-Herald confirmed it Monday.
It was an expected course of action for Thomas, who's been gathering information and pondering his future since CU's season ended. He submitted his name to the league's draft advisory board. He had coach Greg McDermott reach out to NBA scouts and front office personnel.
And now Thomas will get even more feedback.
The league's annual combine, reserved for about 70 prospects, is set to take place from May 16 to 20. NBA teams will conduct private workouts next month as well.
Thomas' presumed focus now: to discern whether NBA franchises see him as a first-round pick.
The 6-foot-3 guard from Omaha Benson emerged as a legitimate draft prospect early last season — scouts were most impressed by his tenacity and work rate, by his length (6-foot-10 wingspan), by his potential to defend multiple positions and by his efficiency as a scorer (he led the Big East in effective field goal percentage at 62.9, according to Sports-Reference.com).
His stock remained relatively stable all season.
Thomas was a second-team All-Big East performer and earned the league's defensive player of the year award. He averaged 15.1 points and 4.4 rebounds per game.
Most analysts have tabbed Thomas as a mid-to-late first-round pick — which is where he's appeared in mock drafts since December.
ESPN projected on Monday that Thomas would be the 23rd pick. He's 14th on Yahoo's mock draft. He'll be the No. 24 overall selection, according to Sports Illustrated.
Getting selected in the top 30 would be significant for Thomas because the contracts of first-round NBA draft picks are guaranteed for two years (franchises can pick up an option in the third and fourth seasons). Even rookies picked at the end of the first round will earn anywhere from $1 million to $1.5 million in their first season.
One of the reasons former Bluejay Justin Patton decided to enter the NBA draft last year — after his redshirt freshman year at CU — was because he had been assured that he was likely to get selected before the 21st pick. Patton was drafted 16th overall.
Thomas will now get his chance to gain similar clarity.
Meanwhile, Creighton — like several other schools — has to play the waiting game.
ESPN each year ranks its top 100 underclassman and international draft prospects. Of that group this season, 23 (including Thomas) are considering entering the draft early. Thirty-three more have already declared and expressed an intention to sign an agent.
CU, which already has one open scholarship, is doing its best to prepare for the possibility that Thomas does not return.
The Jays have been active on the graduate transfer market, reaching out to several perimeter players who would be immediately eligible next season. Transfer Joe Cremo, a 6-foot-4 guard from Albany who averaged 17.8 points per game last year, is planning on taking an official visit to Creighton this weekend.
Photos: Leading scorers for Creighton men's basketball since 2000
Who has paced the Creighton offense over the last several years? Find out in our gallery of the Jays' top scorers since 2000. 
Be the first to know
Get local news delivered to your inbox!