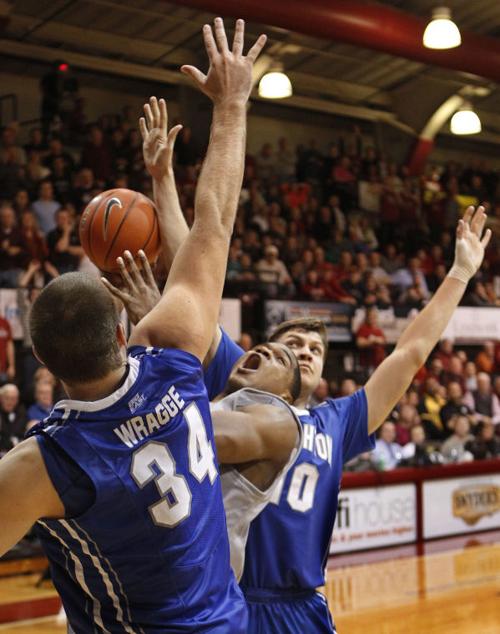 PHILADELPHIA — Of all the things Doug McDermott has done on the basketball court, the one thing that has eluded the Creighton senior was making a game-winning shot.
McDermott's basket and free throw with 4.9 seconds to play erased a one-point St. Joseph's lead, and teammate Devin Brooks made two free throws with 2.6 seconds left to seal the Bluejays' 83-79 victory.
Given his inexperience with the moment, McDermott said, he really didn't know how to react when he watched from the floor as his shot dropped through the net to erase the 79-78 lead the Hawks had taken on two Ronald Roberts free throws with 27 seconds remaining.
"I thought I broke my hand there when I hit the court celebrating," McDermott said.
McDermott's shot capped a wild night before a packed house of 4,200 at Hagan Arena. Creighton fell behind by 13 points less than 11 minutes into the game as the Bluejays were having difficulty handling St. Joseph's physical style of play.
Creighton got back within two points late in the first half and trailed 45-40 at halftime. The Bluejays opened the second half with a 12-6 surge to take the lead, then broke from a 60-60 tie to build a pair of eight-point margins late in the game.
The Hawks (2-1) refused to fold, pulling within one with 1:09 to play on a 3-point basket by Chris Wilson and then taking the lead on Roberts' free throws after a Creighton turnover.
"That was a terrific college basketball game, one of the better ones I've been a part of," Creighton coach Greg McDermott said. "They really punched us in the mouth to start the game, and we didn't get shook. We stayed to the plan and kept defending.
"Then to come back to take the lead and then lose it showed the wherewithal of this group. I think we grew up tonight."
McDermott's reaction to his son's first game-winning basket?
"It's about time," the coach said, smiling broadly.
Doug McDermott, despite intense defensive pressure, finished the game with 20 points, but it was two teammates with radically different styles of play who were equally responsible in the Bluejays hiking their record to 3-0.
Senior Ethan Wragge made a career-high seven 3-point baskets and finished with 21 points. Wragge's four 3-pointers in the first half pumped some life into a Creighton offense that appeared stagnant at the start.
Brooks' clinching free throws capped a 16-point night for the transfer from Iowa Western Community College. Playing in front of about 10 family members who made the trip down from New York City, Brooks had six baskets on hard drives to the rim that almost seemed to catch St. Joseph's off guard.
Not the case, Hawks coach Phil Martelli said.
"He gives them a scoring mentality at guard," Martelli said. "We had talked about him before the game, but he did a good job of getting to the front of the rim tonight."
Brooks, who also had three assists, said that task was made easier because St. Joseph's was paying so much attention trying to negate some of Creighton's outside shooting.
"The lane was open most of the time," Brooks said. "And when it was closed, the perimeter guys were open. When we have guys making shots, I know if I can get into the lane and kick it to them, it's points on the board."
After McDermott's three-point play snapped a 60-60 tie with 10:41 to play, Brooks scored twice on hard drives down the lane to put CU ahead 67-60. He had an assist on a layup by Will Artino that pushed Creighton into its last eight-point lead at 72-64 with 7:04 to play.
Brooks then struck again for a layup that provided Creighton with a 78-74 lead with 2:08 remaining. St. Joseph's got the basket from Wilson that got it back within a point after a foul on a rebound and an offensive rebound kept Creighton from taking advantage of two Hawks' misses.
St. Joseph's got the ball back 16 seconds later when Grant Gibbs was called for an offensive foul for using his elbow to push off on a drive.
"That was a bad one," Gibbs said.
He would make up after Roberts' free throws had put St. Joseph's ahead. As the clock slipped under 10 seconds, Brooks drove for the basket, but DeAndre' Bembry blocked the shot out of bounds. Bembry, a freshman, led St. Joseph's with 20 points.
Creighton then ran a play that Gibbs and Greg McDermott said they installed Friday. It's called "circle," since that's what his teammates do as they circled to try to get free as Gibbs waited to inbound the basketball.
"St. Joseph's is switching to try to deny everything," Gibbs said. "That makes things difficult. We thought it was a little bit of a junk play and we thought it might confuse them.
"I was going to try to get it to Doug no matter what. I know that's my job, and he broke open at the right time and hit a terrific shot."
McDermott was able to get some space thanks to a Wragge screen.
McDermott took the pass and buried the shot from just inside the 3-point lane as Halil Kanacevic ran into him.
"I was so excited that I wasn't worried about getting hit," he said. "Grant made a great pass and I finally hit a shot. Then I focused on the free throw. I had missed a couple early in the game and I just had to keep my composure."
McDermott got to play the hero at the end because he and his teammates didn't lose their poise in the early going.