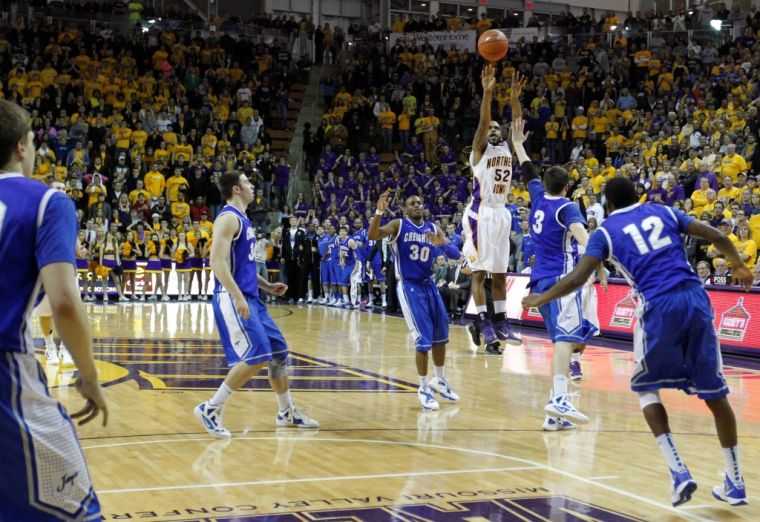 A meeting with Northern Iowa hasn't reached the point where it's just another game for the McDermott family. Probably never will.
But compared to the circus that surrounded Creighton's games against the Panthers two seasons ago, Tuesday's matchup at the CenturyLink Center has more of a business-as-usual feel.
"It's a rivalry game; it always has been," Creighton forward Doug McDermott said. "Growing up as a kid, I cheered for UNI. Now I play for Creighton, and that's kind of different.
"I like it. It's a tough opponent. They're really well-coached and we have a close relationship with their staff. It should be a fun game."
One couldn't blame McDermott — or his father — for being a bit apprehensive when the teams met for the first time two seasons ago. Greg McDermott played college basketball at Northern Iowa and coached there for five seasons, taking the Panthers to the NCAA tournament three times.
His son committed to play for Northern Iowa, but in the spring of 2010 Dana Altman left Creighton, and the Bluejays hired Greg McDermott away from Iowa State. Doug McDermott asked for his release, and Northern Iowa coach Ben Jacobson granted him the opportunity to play for his father at Creighton.
Doug McDermott's development into a college basketball superstar still doesn't set well with Northern Iowa's fan base. For his part, Jacobson has said he's never looked back and wondered: What if the younger McDermott were wearing purple and gold instead of blue and white?
His only concern is trying to figure out a way to slow the high-scoring junior and his teammates, who bring a 16-1 record and rankings of 10th and 12th into Tuesday's 7:05 p.m. Missouri Valley game.
"We're going to see one of the best teams in the country," Jacobson said. "What they've been able to do over the course of the last year and a half is something that's great for our league. What they have done this year is tremendous.
"They certainly have star power with Doug, but it's not a one-man show. The rest of their guys are playing great basketball. When you get ready for a game, you're trying to figure out a couple of things on both ends of the floor that can help you win. It's a pretty long list when you're getting ready to play Creighton."
Jacobson was Greg McDermott's top assistant and took over the program when he left for Iowa State in 2006. Jacobson's staff is made up of guys who at some point worked for McDermott. Assistant Erik Crawford also played for McDermott at Northern Iowa.
"I don't know if this is ever going to just be another game because of my feelings for that institution," Greg McDermott said. "Combine that with the fact that Jake and four guys on his staff worked for me. There are some close, personal relationships.
"As long as those guys are there, it's never going to be just another game. All the guys I recruited are gone, so at least we don't have that connection with the players anymore."
The players Jacobson brings to Omaha have experienced a frustrating first half of the season. The Panthers returned all but one key contributor — Johnny Moran — from last season and were picked third in the Valley's preseason poll.
They have lost three of their first five league games and are 9-8 overall.
"Johnny had been a big part of what we've done the past four years, but with having everyone else back, I thought we'd be more consistent than we've been," Jacobson said. "When we've played well, we've played really well and been the team that we felt we can be and still have a chance to be this year.
"The inconsistency has surprised me. We lost some close ones early against Louisville and Memphis, and we did not play our best against Iowa. Maybe if one or two of those had gone a different direction, maybe we would be playing with a little more consistency."
The Panthers lost by five points at a tournament in the Bahamas to a Louisville team that is now No. 1. They also dropped a five-point decision to Memphis and fell 80-73 in a neutral-court game against the Hawkeyes.
In the past three games, Jacobson said, Northern Iowa has put together two of its best performances in wins at Illinois State and against Bradley.
"Our game here against Bradley Saturday was the best we've played the entire 40 minutes," Jacobson said. "And the game we had in between against Evansville was pretty good, so maybe we're getting closer to where I thought we'd be."
Jacobson prefers to call the first half of the season puzzling rather than frustrating, although he senses his players would pick the latter description.
"I think the guys have been frustrated by it more so than I have," he said. "Certainly, we've been trying to figure out which direction to go with some things on offense and defense.
"But I give our guys credit. Even after dropping some close games, they've showed up at practice and worked at it. We're doing the right things in between games, and I think we're starting to get closer."
» Creighton leads the series 29-16. Greg McDermott is 4-5 against the Panthers (3-2 at Creighton, 1-3 at Iowa State).
» A victory would give Creighton its first 17-1 start in program history.
» Doug McDermott enters the game with 1,783 points. If he would score at least 19, he would move past Northern Iowa's Ben Jacobson (1,787 points), Drake's Josh Young (1,789) and former Bluejay Kyle Korver (1,801) on the Valley's career scoring chart. Korver holds fifth place on Creighton's all-time scoring list.
» Guard Jahenns Manigat has made 13 of 17 3-point shots in five Valley games and leads the conference in 3-point percentage (.684). He led the league in 3-point percentage (.492) last season. As a team, Creighton is shooting 53 percent from beyond the arc in its five conference games.
» Creighton's 10-game winning streak is tied for sixth nationally. A win over Northern Iowa would match the Bluejays' longest winning streak under McDermott.