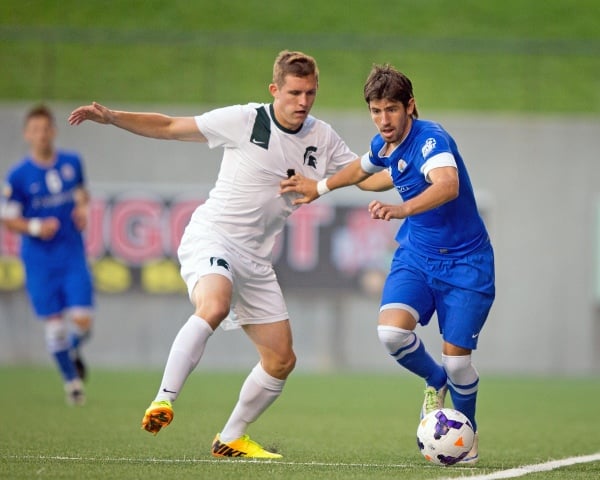 Creighton's soccer team set some program history Tuesday night that will most be felt in the Bluejays' legs.
For the first time since the program was started in 1979, Creighton has played four consecutive double-overtime matches. Tuesday's against Michigan State ended in a 2-2 tie after the Bluejays had gone 2-1 in the previous three.
Creighton had never played more than two double-overtime matches in a row, and only once — in 2010 — had endured three straight matches that went beyond the regulation 90 minutes.
"It's pretty tough on our legs, especially since we went on the road and played two really tough games against Old Dominion and William & Mary," Creighton senior midfielder Bruno Castro said. "Those were really tough games, and then we come back and the same thing happens in these last two matches.
"It's taxing on our legs, but we have to be tough and keep working. We need to get better."
The tie, before 2,104 at Morrison Stadium, left third-ranked Creighton 5-1-1 heading into a crucial Big East match Saturday at Georgetown. Michigan State, playing for the first time since Sept. 18, is 4-1-1.
Although they were outshot 21-9, the Spartans led 1-0 and 2-1 in the match. The first goal, by Fatai Alashe, came with 12:54 gone on a deflection off a corner kick. Michigan State's second goal came seven minutes into the second half when Tim Kreutz headed in a shot on a play that started with a long throw-in by Ryan Thelen.
Jay Chapman almost headed in the throw-in, but his attempt hit the crossbar and bounced to Kreutz, who put his chance away.
"Throw-ins are a game of chance," Creighton defender Eric Miller said. "You never know where they're going to go, and you just have to do your best to get them out of the box.
"We gave up a couple of goals we'd like to have back. I'm certainly disappointed — I don't know how the rest of the guys feel — but I felt we gave one up there. We kind of gave them the game and didn't show how good of a team we really are."
Michigan State, which already owned a victory over a Marquette team picked third in the Big East behind Georgetown and Creighton, showed itself to be a salty bunch. Although the Spartans got only five shots, they managed to put five on goal.
After Castro tied the game at the 53:37 mark, Michigan State turned back repeated attempts by the Bluejays to mount another scoring threat.
"They were a really organized team that worked really hard defensively," Castro said. "We tried to break them down, but they did their jobs. We had to work really hard to come back twice to tie the game, and we just couldn't get that winning goal at the end."
Creighton got its first tie when freshman Marvin Iskra took a pass from Castro and rammed home a shot from eight yards out at 20:52. Castro's goal, on a header off a long crossing pass, came just a minute and 47 seconds after Kreutz had put the Spartans ahead.
"That was important because we didn't want to be in the final stretch of the game chasing the game," Castro said. "It was good that we got that goal right away so that we could keep playing our style and trying to get that third goal. It just didn't happen for us today."
Creighton coach Elmar Bolowich said his team has to take the good with the bad from Tuesday's match.
"When you play a tough schedule like we do, quality teams like Michigan State aren't coming in here and just roll over," he said. "We have to be happy we came back and got a result out of it.
"We gave up two really, really bad goals, but give our guys credit."
Consolation comes in the fact that Bolowich expects Michigan State to have a good season. The Spartans won the Big Ten tournament last season and played into the second round of the NCAA tournament.
"This tie doesn't hurt us, and it helps both teams in many ways," Bolowich said. "Michigan State is a very quality team. I'm not disappointed with the tie, but I feel for our guys.
"Right now, their legs are really heavy having played all these overtime games plus the travel. It takes a toll on you."
Video: Highlights from Creighton's draw with Michigan State