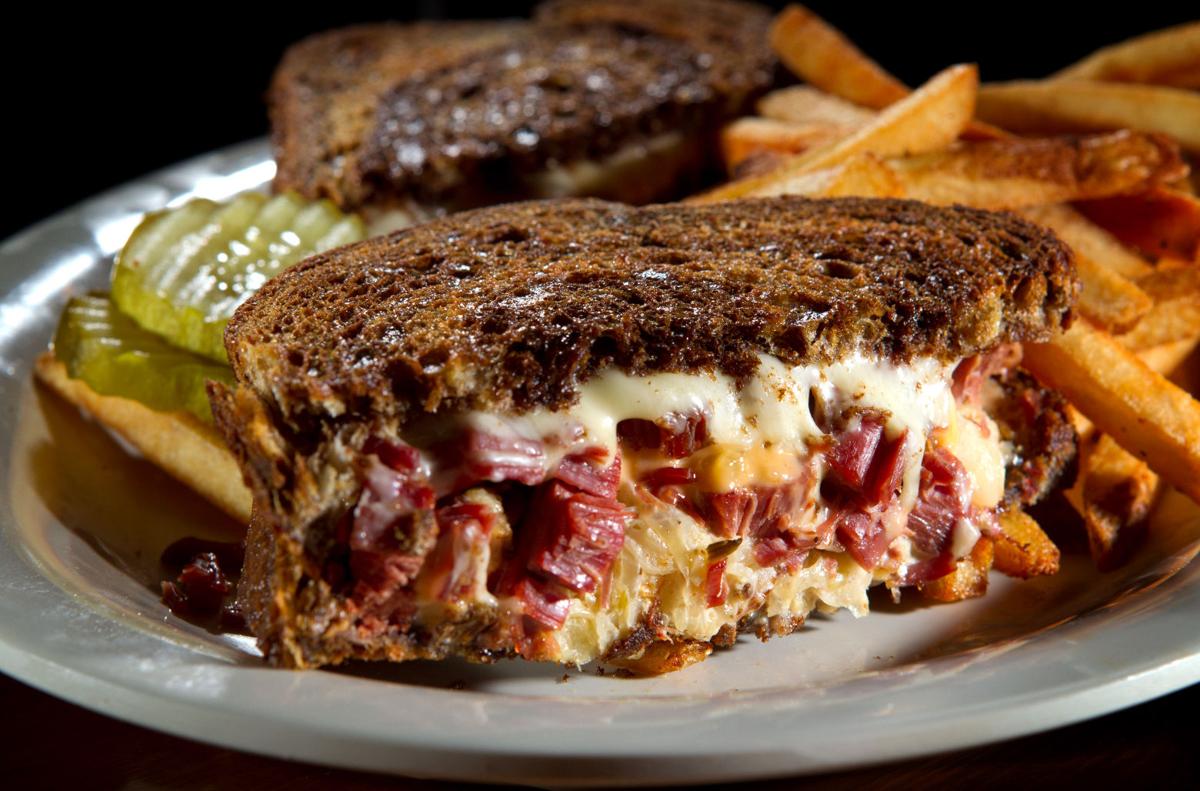 Omahans believe it was invented here, in the Roaring '20s during a poker game in the posh Fern Room of the Blackstone Hotel, not in a New York City deli like some claim.
Lean corned beef packed tightly under a pile of vinegary kraut, glued together with melted Swiss cheese and a slather of Thousand Island dressing between dark rye bread is good enough for people to fight over.
Close to 50 restaurants in Omaha — that we know of — serve Reubens.
Thousands of words in this newspaper, in the New York Times, in Cook's Illustrated Magazine and on Food Network programs have been devoted to the sandwich's Omaha origins.
If you ask a local where to find a good Reuben, he or she will have an opinion — more than 100 chimed in on Facebook when I asked.
So it made sense to begin "Food Prowl" with such a divisive, beloved and old-school example of what Omahans like to eat. It made sense to bring friends — two local Reuben connoisseurs and the daughter of the man who popularized the sandwich — and start the series in search of Omaha's finest Reuben.
"There's lots of places in Omaha to get good steak, and lots of ways to make a good steak, " said my friend J.J. Harder, who at one time had eaten every Reuben in the city of Lincoln. "But there's only one way to make a Reuben."
Here's the history: Reuben Kulakofsky was one of a group of men who played a late-night poker game at the Blackstone. Charles Schimmel, the hotel's owner, was in the game, too. Each time they played, the men would reserve a few nickels and dimes from each hand and call down to the kitchen for a midnight snack.
Bernard Schimmel, one of Charles' sons, would bring a variety of meats and breads to the men and they'd make their own sandwiches.
Kulakofsky came up with a sandwich that everyone loved. They called it the Reuben.
Charles Schimmel liked it so much that he put it on the hotel menu. A listing from 1934: "Reuben Sandwich, 40 cents."
Bernard Schimmel wrote the recipe down, the exact way he made it in the kitchen at the Blackstone for Kulakofsky and the guys.
We found one Omaha restaurant — fittingly, a dimly lit bar on Leavenworth Street — that makes a Reuben almost identical to the poker-game original.
The Reuben at Barrett's Barley Corn had pressed, drained sauerkraut mixed in with the Thousand Island dressing, just the way the recipe calls for. The Barrett's sandwich comes cut in half and balanced on a mound of fries in a plastic basket. The thinly shaved corned beef is flavorful, tender and tangy. The kraut and Thousand Island make a saucy layer between the meat and cheese, and I used a half-dozen napkins as I ate the sandwich.
Is it the best I've had in Omaha?
No. But it's a very close second.
I decided to call Bernard Schimmel's daughter, Omahan Mary Bernstein, to learn just what makes the perfect Reuben.
When I asked her to meet me to eat the sandwich her father made famous, there was a problem. Bernstein doesn't eat meat.
I suggested we meet at Marks Bistro to eat its tempeh Reuben, a meatless variety of the sandwich that I came to love when I didn't eat meat.
We sat at a table by the restaurant's bank of windows and she told me how the Reuben came to be.
She remembers her dad making them for her family when she was a kid. He taught classes on how to make the sandwich. He made them for company. And now she does the same: Earlier this year, she helped make 70 Reubens for a family reunion. She's even made one for famous Omaha artist Jun Kaneko, who is apparently a bit of a Reuben connoisseur.
I asked Bernstein what she thought of the Marks Bistro variation.
"It's a nice sandwich, " she said. "But it's not a Reuben."
The Reuben has many imitators. We've all seen turkey Reubens. Blanc Burgers and Bottles in Omaha serves a burger topped with sliced corned beef, kraut, Swiss cheese and Russian dressing on a rye bun. Stoysich House of Sausage makes a Reuben-flavored sausage and sells the Bavarian kraut and rye buns to go along with it.
To try another local Reuben, I met up with Harder, whose claim to fame, in addition to being a Nebraska-born diplomat for the U.S. State Department, is that he once ate every Reuben sandwich available in the city of Lincoln. Jason Bejot, my other expert guest, is no slouch either — he's founder of the Blackstone Society, a group that travels Omaha restaurants in search of the perfect Reuben.
We congregated for lunch at the Drover, a dimly lit, cowboy-themed restaurant famous for its whiskey steak. The Drover's Reuben is listed on its menu as the house specialty. Instead of corned beef, the sandwich has tender prime rib, sliced thin and piled high between the other traditional ingredients.
"Outside of Nebraska, you probably won't find a Reuben like this, " Harder said.
The beef took center stage in our first bites. In second and third bites, sauerkraut and thick homemade Thousand Island came through.
Harder said he found the sandwich smokier and drier than a Reuben with corned beef.
Bejot thought it was more like a hybrid: half Reuben and half French Dip.
Spike Sabin, manager of the Drover for 38 years, said the restaurant's prime rib Reuben has been on the menu as long as he's been there. The Drover shaves the ends of its prime rib for the sandwich, and grills the buttered dark rye bread and a pile of meat and kraut on the flat top before assembling it.
"We're a steakhouse, " Sabin said.
After lunch, Harder and I went to Wohlner's Grocery in Aksarben Village, where we found enough room in our prime rib-stuffed bellies to sample a few bites of its take on the sandwich. We decided to try Wohlner's because the locally owned market is known for its excellent meat counter. And the store is older than the Reuben itself — it has been around since 1918.
The sandwich came filled with high-quality shredded corned beef and a swipe of Thousand Island that was pleasantly sweeter than the others we'd tried. We didn't care for the bread: crisply toasted light rye. It was too crunchy, and not heavy enough in flavor to stand up to the bold sauerkraut and the rich corned beef.
"If one thing is off, " Harder said, "the whole thing is off."
It turns out that the Reuben is, indeed, a delicate balancing act.
Bernard Schimmel left detailed instructions on how he put the sandwich together. Too much dressing and the sandwich becomes a sloppy mess. If the kraut is too wet, the center of the sandwich gets soggy. And too much fat on the meat means the whole thing is greasy.
Still in search of a sandwich that Schimmel would approve of, we found ourselves almost where this story begins: The Crescent Moon, right across the street from the old Blackstone Hotel.
I met Harder for lunch at the Moon one afternoon. We sat in a booth near the back of the midtown bar, and prepared to try what we'd heard is one of the best sandwiches in town.
It came to us neatly arranged in two halves on a plate next to a pile of French fries.
The Blackstone Reuben, as it's called on the Moon's menu, is a feat of engineering. It doesn't fall apart when you eat it and it doesn't leak dressing or kraut.
Chunks of tender, moist corned beef burst with flavor. The meat mixed in perfect harmony with the tangy kraut, the creamy dressing and the subtle crunch of the bread. Bejot ate the Moon's Reuben with the Blackstone Society, and every member present that night gave it a perfect score.
"It's not fancy, and it's not gourmet, " Bejot said. "But it's pretty tasty."
The Moon buys that corned beef locally from Omaha Steaks and cooks it all day long. They trim off extra fat when it's done. The meat is cut into chunks because, Crescent Moon owner Bill Baburek said, it's just too tender to slice.
The sauerkraut comes from a can, but it's "doctored up" with fennel and other spices to add depth. And the kitchen doesn't cook the sandwich on a flat-top grill — it sends each one through a conveyor-belt pizza oven because that's all the restaurant had when it first opened.
They have a flat-top now, but the sandwiches still go through the oven.
"The Reubens just come out perfect every time, " Baburek said.
Harder and I slowly made our way through the Crescent Moon Reubens. He leaned back, contemplating the sandwich. I took mine apart a bit, studying the reddish chunks of meat, the savory dressing, the pickled cabbage.
"People (in Nebraska) take pride in the Reuben, " Harder said. "It's a litmus test. I am loath to eat a Reuben anywhere outside of Nebraska."
A litmus test that the Crescent Moon passes with flying colors. J.J. Harder, Jason Bejot and yours truly agree: It serves the best Reuben in the city where the Reuben was born.
Kulakofsky is said to be the inventor of the Reuben sandwich in the late 1920s at the Blackstone in Omaha.
During late-night poker games at the Blackstone, Schimmel would bring a variety of meats and breads to the players and they would prepare their own sandwiches. It was during one of these sessions that the Reuben was said to have been invented.
An authority on Reubens — at one time he had eaten every Reuben in the city of Lincoln.
Founder of the Blackstone Society, a group that travels Omaha restaurants in search of the perfect Reuben.
The daughter of the man who made the sandwich famous in the Blackstone Hotel kitchen.
>> Barrett's Barley Corn Pub and Grill
>> The Crescent Moon Ale House
3578 Farnam St., across from the former Blackstone Hotel
The Schimmel Reuben Sandwich
4 slices Swiss Emmenthaler cheese
Thinly sliced Kosher-style corned beef
2 ounces chilled, well-drained sauerkraut
1 ounce (or less) Thousand Island dressing
Mix Thousand Island dressing with sauerkraut that has been drained. Spread outside of each slice of dark rye bread with soft butter. Lay bread side by side, unbuttered side up. Place Swiss cheese on each piece, corned beef on one piece, sauerkraut on corned beef and then put together for grilling on sandwich grill or skillet. Press together with spatula and cook until brown and hot through so cheese oozes. Eat immediately! Garnish with rose radish, Kosher dill pickle and potato chips. Serves 1.