With a few simple substitutions, I was able to alter my favorite cheesecake recipe to be gluten-free and lower in sugar — and my taste testers couldn't tell the difference.
The crust is made by swapping gluten-free Oreos for the regular variety. An easy one-to-one swap. We found the specialty Oreos in the health food section of the grocery store.
For the cheesecake filling, my original recipe called for flour to act as a thickener. I made an even substitution of corn starch and it set up perfectly.
Since there is so much sweetness in the Oreo crust and the chocolate ganache topping, I wanted to cut some sugar where I could. I swapped ¾ cup sugar with ¾ cup monk fruit. The sugar substitute didn't alter the texture or flavor of the cheesecake at all.
For a smoother-textured cheesecake, you want the batter to be completely lump-free. To achieve this, start with all the ingredients at room temperature. Softened cream cheese will whip lump-free. If eggs, sour cream and cream are cold when they are added to the cream cheese, it can cause the cream cheese to solidify and make a lumpy batter.
Making cheesecakes in muffin tin assures the perfect serving size and they take a fraction of the time to bake. They can be frozen for up to three months.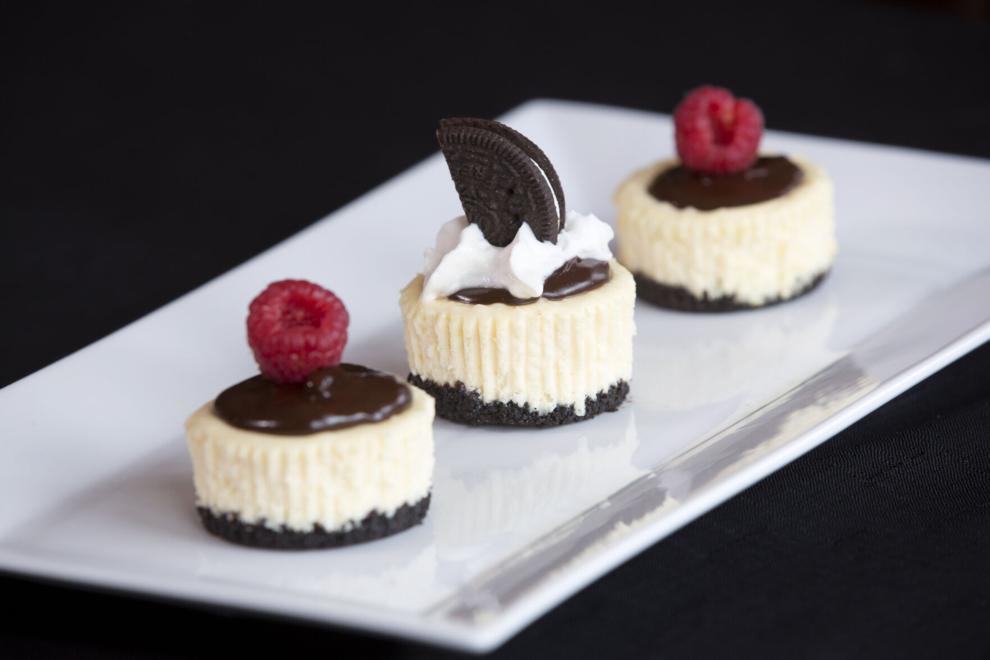 Gluten-Free Mini Cheesecakes
2/3 package gluten-free Oreos
3 tablespoons melted butter
3 8-ounce packages cream cheese
¾ cup sugar or monk fruit
4 ounces semi-sweet or dark chocolate
1. Preheat oven to 350 F. Add a pan with an inch of water to the bottom rack.
2. In a food processor, add 2/3 of gluten-free Oreos and pulse until finely ground. Add melted butter and mix.
3. Line muffin pan with cupcake liners. Add 1½ tablespoons of cookie crumb to the bottom of a cupcake liner. Use a measuring cup or other flat-bottomed object to pack down the crumb mixture.
4. With a mixer, whip cream cheese until fluffy, about 2 to 3 minutes.
5. Add sugar (or monk fruit) and mix until smooth, scraping down the sides of the bowl as necessary.
6. Add egg, vanilla, sour cream and heavy cream. Mix until smooth, making sure to scrape the bottom and sides of bowl.
7. With mixer on low, gradually add corn starch until well-incorporated.
8. Use a muffin scoop to add cheesecake mixture over the cookie-crumb crust. Fill muffin cup nearly full.
9. Bake 15 to 20 minutes, until mostly set. (It can be a tiny bit jiggly in the middle.)
10. Cool to room temperature. Put in a sealed container and refrigerate at least 4 hours, preferably overnight, before serving.
11. Just before serving, make the chocolate ganache. Add finely chopped chocolate to a glass bowl. Warm the cream until it begins to gently simmer.
12. Pour the warm cream over the chocolate. Let it sit for 2 to 3 minutes.
13. With a rubber spatula or small whisk, gently mix the chocolate and cream until all the chocolate has melted.
14. Spoon a little ganache over the cheesecake and serve. Additional topping options include whipped cream, fresh berries and cookie crumbles.