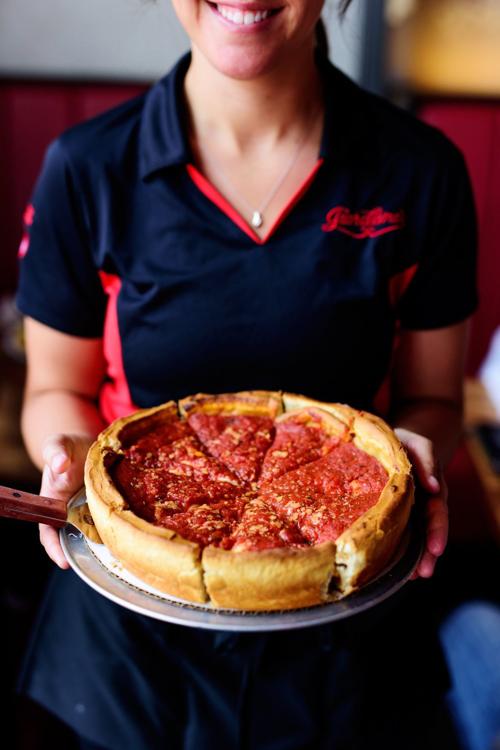 If you saw a post online today from a "Giordano's Pizza Omaha" Facebook page, or maybe shared it on your own timeline, take note: The page isn't actually affiliated with the deep dish pizza chain's Chicago headquarters.
"It does not have any affiliation to our brand," Giordano's spokesperson Jessica Harris said in an e-mail.
The brand isn't running the page and didn't approve its creation, Harris said. She said she believed the page might be sharing some dispatches from Giordano's official page.
All that said, Harris does have an official update for pizza fans.
"We are still actively looking for a site in Omaha," she wrote. "Unfortunately, this process has taken longer than we expected, but we are very (committed) to finding a space in the near future."
The unofficial Facebook page posted an update on Feb. 3 that said Giordano's was still looking for an Omaha location, which was widely shared on social media and garnered more than 50 comments.
Last February, Giordano's confirmed it had plans to open in Omaha after the restaurant posted an image of executives in front of the former CenturyLink Center. They wore Giordano's shirts and held up pizza boxes.
The post read: "Omaha, we are coming! Here is our executive team, searching for the best Giordano's location in Omaha, while taking in the sights of your beautiful city!"
In late 2017, the pizza chain held a fan vote on social media, asking voters to help pick a new location. Omaha won the poll, beating out Des Moines, Cincinnati, Dallas and Houston.
Founded in 1974, Giordano's has restaurants in Arizona, Florida, Illinois, Indiana, Michigan, Minnesota, Nevada and Ohio, according to its website.
It is the largest and most widespread of three well-known Chicago deep-dish franchises, which also include Lou Malnati's and Gino's East.