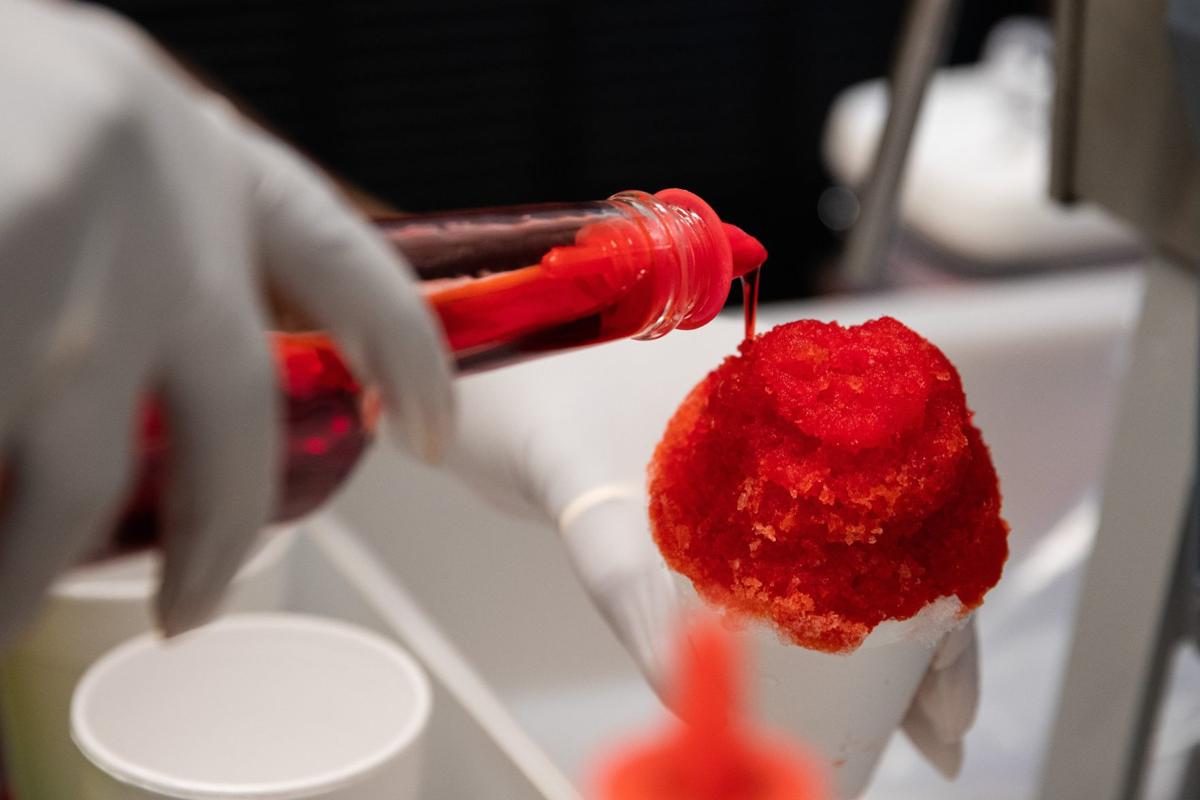 Maranda Adams has always been fond of her husband Titus' hometown of Omaha, especially North Omaha, but thought that life would be sweeter with a heat-beating treat from her youth in Houston.
The treat is the snowball, or sno-ball. It's sort of a cousin of the snow cone made with ice shaved to a fine texture, then drenched with syrup, plus options of toppings.
The confections originated in New Orleans. They can now be found on North 24th Street at The Cooler Sno-Balls, a shop the Adamses opened two years ago that is believed to be the first brick-and-mortar snowball stand in Omaha.
"In Houston, local snowball shops are super popular," Maranda Adams said. "When we lived out there, we would always go with our kids and just enjoy a summer treat. My husband's originally from North Omaha, and we would be here on those hot summer days and wonder, where are all the snowball shops?"
The enterprising couple saw an opportunity to fill a niche and contribute to community life and economic growth in historic North Omaha.
The city has had a snowball truck, New Orleans Sneaux, since 2010.
But if Omaha had a brick-and-mortar snowball stand, the Adamses didn't know about it. They first launched The Cooler as a food truck in 2017. They opened their shop in spring 2018 in a former service station building at 2323 N. 24th St.
"We decided this is something that Omaha needed," Maranda Adams said. "It was a great opportunity to bring families together, to bring community together, and have a place where you can serve sweet treats to people, and people can come out and enjoy it."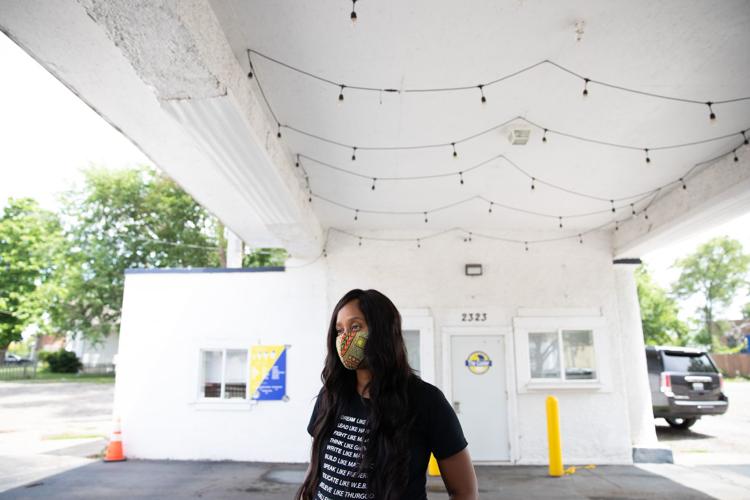 Now in its third season, The Cooler is enjoying brisk business despite having to compromise with the pandemic by offering only drive-thru service, instead of its usual walk-up window and picnic table seating.
But you don't have to eat your treat in the car; there are two mini-parks and streetside benches near the Omaha Star offices just across the street, or you can park and take a stroll to The Union for Contemporary Art, the Great Plains Black History Museum, Love's Jazz and Art Center, Fair Deal Village, Culxr House, Styles of Evolution and other nearby attractions and businesses along the reviving North 24th Street.
People who already knew about The Cooler have been coming back for more.
And the pool of Cooler Sno-Ball aficionados has expanded in the wake of Black Lives Matter protests this summer, as more people try to find and support black-owned businesses and nonprofits.
Adams is donating a portion of proceeds each week to a local nonprofit that helps black people, starting in early June with 100 Black Men of Omaha and continuing last week with I Be Black Girl.
"We wanted to make sure with The Cooler that we paid it forward," Adams said. "So for us, with the increase in business, we decided that, weekly, we would donate a portion of the support that we receive to local nonprofits that benefit black men, women, girls and boys."
She's glad for the increased business, but "there's a call to action," Adams said. "And there's a call to action for us also. Because we're being blessed to have the support of Omaha and surrounding cities, we felt like it was important for us to step up and say, 'Hey, we're going to make sure that people understand that there are organizations who are doing work, and we want to be able to support them.' "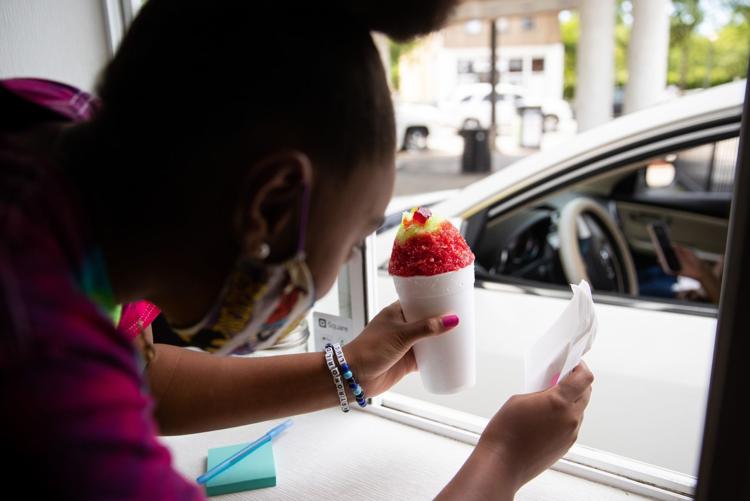 Maranda Adams earned a business degree at the University of Nebraska-Lincoln. She followed her mother into the real estate business.
Titus Adams, after attending Creighton Prep, played football for Nebraska and in the NFL for a few years. Now in their 30s, they have four children and a fifth on the way. They live in North Omaha, and their children attend school there.
Titus Adams has a large extended family in Omaha. Maranda Adams became familiar with the city during visits in college.
"North Omaha, the community, the culture of North Omaha, it's just so unique, it's just so amazing," she said. "So when we decided opening a business was what we were going to do, there was no other option than to do it here in North Omaha."
They settled on a historic former service station and cab company building on 24th, two blocks south of Lake Street. The tiny building has a canopy that stretches to the sidewalk, creating a Dairy Queen-like look that made it appear a natural for a snowball stand.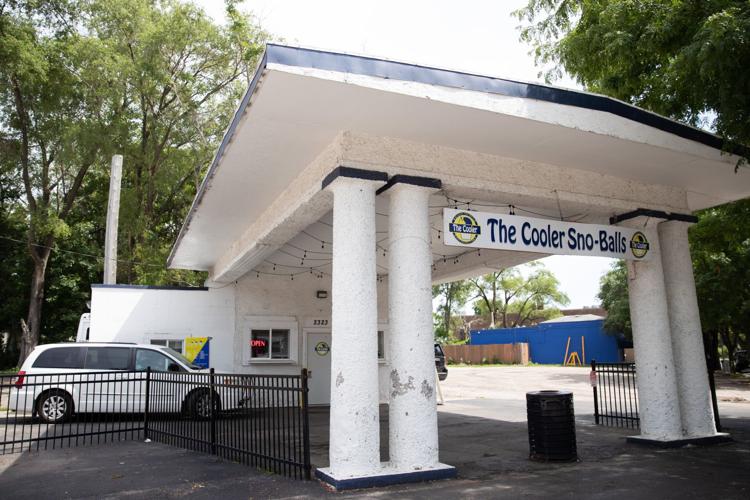 It had been vacant for many years and took several months to renovate. That work was done by Blair Freeman Group, owned and led by Ashley Kuhn and Maranda Adams. A rarity in Nebraska as a 100% minority-woman-owned contracting company, it has done millions of dollars worth of construction, real estate services and owners' representation work.
"Coming in and being able to really just be able to be hands-on with our own project, and then projects we've done in the past, it's just being able to navigate the process and knowing that there was that need in the community for a construction company to help," Adams said. "This building kind of helped with that."
Having decided to sling snowballs in Omaha, Maranda and Titus went to New Orleans to learn how to do it right. The owner of a classic New Orleans stand let them behind the scenes to research the product and the process.
Back home, they gave their own flavor to the snowballs. They and their employees make the syrups by hand, with pure cane sugar, for such flavors as Tiger's Blood, Blue Raspberry, Wedding Cake, Pelican Punch and the crowd favorite Strawberry Cheesecake. Their snowballs are served in a plastic foam cup and, for a little extra, they're "stuffed" with vanilla ice cream or "fluffed" with "cool sauce." Adams was coy about the cool sauce, but in New Orleans, snowballs are sometimes topped with condensed milk.
The shop is generally open from Memorial Day to Labor Day each year. Most weeks, it's open from 3 to 8 p.m. Tuesday through Friday and from 1 to 8 p.m. Saturdays and Sundays. It's closed on Mondays.
On a steamy Wednesday afternoon, Cyan Thorne pulled up to the window with her twin 7-year-olds. It was their first visit this year. The family has hit The Cooler in previous summers to eat snowballs in the shaded pavilion and play the cornhole and oversized Connect Four games that Adams usually has out.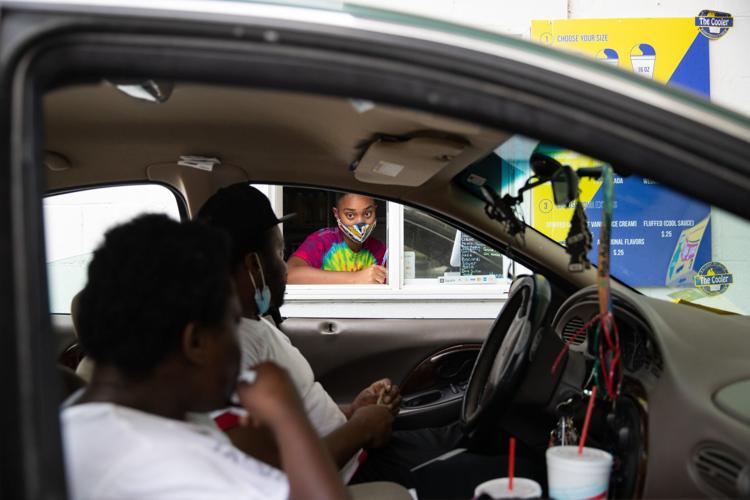 "I like that it's family-oriented and how they have the games for the kids," Thorne said.
Manne Cook, a former Omaha city planner now in private business, became fond of wedding cake snowball while working on the Forever North plan for the North 24th Street corridor for the city. He said The Cooler is playing an important role in creating activity and energy with the other businesses and cultural institutions. Its unique, affordable fare serves families from the neighborhood but also introduces the area to people from other parts of Omaha and the region.
LaVonya Goodwin, president of the North 24th Street Business Improvement District and co-owner of Goodwin's Spencer Street Barber Shop, said the Adamses are "some of the pioneers who see where this district is headed."
"We need entrepreneurs to plant their businesses on North 24th Street and the investment dollars to rebuild the streets, sidewalks, facades and develop mixed-income housing options to completely restore the North 24th Street community," she said.
---
Eat sweet, cold treats at The Cooler
Be the first to know
Get local news delivered to your inbox!