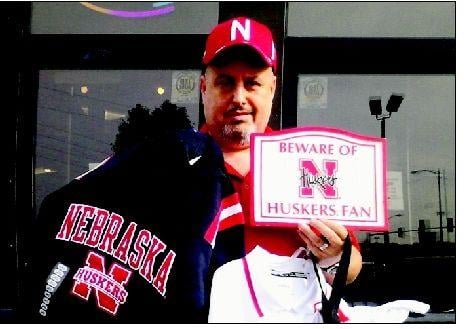 Connie Keig knew they had to be close because of the four red suitcases.
Keig went to the airport Thursday night to pick up her guests flying in from Greenville, South Carolina. Problem was, she couldn't remember what one of them looked like. The other she had never met.
The red suitcases were the homing device.
Keig had invited Greg Nicholson and his wife, Kim, to stay with her in Omaha and attend a Nebraska football game after meeting Kim at a medical infusion center in South Carolina, where Keig lives part time.
Keig has an autoimmune disorder, and Kim has ulcerated colitis. They talked for nearly four hours while they received treatment.
That's when Keig discovered what a big Nebraska fan Kim's husband has been since the age of 9.
Even though he'd never stepped foot in Nebraska or seen a game live, Nicholson flies a Husker flag at his home nearly every day. He's got a big red pickup with Husker floor mats and seats. There's a light in the back window with a bigN.
He's got Husker shirts, a Husker wallet and watch and he keeps a Husker bottle opener on his key chain.
His first stop Friday in Omaha was Husker Hounds, where he spent nearly $450. He even got a big stone with an N on it.
The Big Ten Network was the best thing that ever happened to Nicholson, who can now watch every Nebraska game. Ameer Abdullah and Kenny Bell are his favorite players.
Nicholson, 46, fell in love with Husker football as a youngster watching those epic Nebraska-Oklahoma games on Thanksgiving day. He loves Tom Osborne and the Big Red Machine.
"I just picked them out as my team when I was very young," he said. "I didn't even know where Nebraska was."
Keig had made sure of that.
Keig called a friend who had four tickets on the 50-yard line. After securing the tickets, she called the Nicholsons and gave them the news.
Keig said Nicholson couldn't believe it at first.
"I was tickled to death," Nicholson said.
He told Keig, "This is one of the more fun things in my whole life to come see a game."
They will rise early on Saturday to tailgate before Nebraska hosts Rutgers. Beyond that, Nicholson isn't sure what to expect when he steps into Memorial Stadium, the place he's seen many times on television but never thought he'd see in person.
"I'll probably just be in awe, I guess," he said. "I know I'm super excited about it. Of course, Big Red is going to roll."
"I just picked them out as my team when I was veiy young. I didn't even know where Nebraska was."
Be the first to know
Get local news delivered to your inbox!