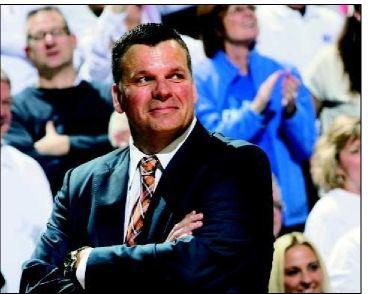 Maurice Watson Jr. sees big-time potential in Creighton's small lineup.
Coach Greg McDermott is determined to mix things up this season for opposing defenses by using some combination of Creighton's power forwards — Toby Hegner, Martin Krampelj or Cole Huff — in place of a traditional big man.
"It's going to happen, no doubt about it," McDermott said. "It's part of our package, and we're going to use it in every game."
That puts a smile on the face of Watson, the Bluejays' slick point guard who excels at getting to the basket. Putting an extra shooter on the floor, Watson said, will force opponents to make tough decisions that could help Creighton's offense.
"It's going to open up driving lanes for me when our guys pull big men away from the paint," Watson said. "And if they don't go to help out, it's going to lead to some wide-open 3s.
"I love the type of team we have because it just gives us so many options."
Creighton enjoyed great success two seasons ago using
Ethan Wragge at center. At 6-foot-8, Wragge gave up some size in the middle but continually frustrated opponents with his outside shooting ability.
Neither Hegner, Huff nor Krampelj is blessed with Wragge's pure shooting ability, but each is capable of knocking down shots from the perimeter.
Creighton also plans to use a center in his traditional role at times. Its big men are Geoffrey Groselle, Zach Hanson and Justin Patton, who might redshirt.
But McDermott definitely likes the idea of attacking opposing defenses in a more non-traditional way by pairing Huff with Hegner or Krampelj.
"Part of it will depend on who we're playing and their personnel," McDermott said. "Can we get by without a traditional 5-man defensively? Do we need baskets at the rim in that particular game?
"We are fortunate to have some depth up front. The reality is that we have five guys that are ready to play, and Justin is making progress every day. That gives us a lot of options." Some of that depth is dependent on health. Hanson has been bothered by a foot injury during preseason practice, while Krampelj has missed some recent practices with a knee injury.
But if, or when, all hands are available, McDermott sees plenty of benefits in throwing different combinations at opponents.
"There are things we give up in going small," he said, "but there are things we gain."
Huff shot 40 percent from 3-point range as a sophomore at Nevada two seasons ago, while Hegner made 36 percent of his shots from beyond the arc last season as a redshirt freshman.
Creighton's most athletic big man is the 6-9 Krampelj, a freshman who has shown the ability in practice to knock down shots from the perimeter while also getting to the basket.
"I feel like it could bring us what Ethan and Doug (McDermott) did their senior years," Hegner said. "Cole, Martin and I can all shoot the ball really well. But when we're in there at the same time, we are going to be small.
"We're going to have to work to get rebounds. At the end of the day, it's going to be about who's willing to put a body on a guy and box out. I'm willing do whatever it takes."Groselle, a 7-footer, and the 6-9 Hanson have the weight to hold up against more traditional big men.
"When we're talking about playing small, it's about weight, not height," Hegner said. "I'm 220, Tini (Krampelj) is 205 and Cole is about 215."
Hegner sees why Watson is excited about the possibilities that a smaller lineup provide him as a point guard.
"It screws up the other team's defenses and it's going to create more driving lanes," Hegner said. "There aren't too many people that are going to be able to stay in front of Maurice when he's going full speed."
McDermott said one key to making it all work is having unselfish players. If Creighton plays small, it will cost Groselle and Hanson potential playing time. The same is true for the power forwards in a more traditional lineup.
"The reality of it is that it will require some sacrifice because we have five, and maybe six, guys that are ready to play," McDermott said. "Whether we can utilize all of that depth is going to be a challenge.
"But it's a nice problem to have."
Guard Isaiah Zierden returned to practice Tuesday after missing the previous three workouts with a foot injury. Zierden participated in the entire workout and showed no signs of being slowed by the sore foot.
McDermott said an MRI performed on Martin Krampelj's left knee Monday indicated no severe damage. "He's day to day," McDermott said. The Bluejays do not practice Wednesday, and he said Krampelj might be able to practice Thursday.
Friday's exhibition against Upper Iowa will pit McDermott against one of his former players. Brooks McKowen played for McDermott at Northern Iowa and helped get his coach to two NCAA tournaments.
Be the first to know
Get local news delivered to your inbox!