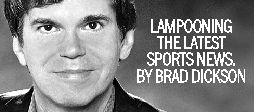 On Saturday, Nebraska plays at Wisconsin for the first time since 2011. That three years should've given Wisconsin fans almost enough time to sober up since the last game.
If Nebraska beats Wisconsin, Rep. Paul Ryan owes Senator-elect Ben Sasse some smoked Gouda cheese. If Wisconsin wins, Sasse has to give Ryan some Lucky Brand beef jerky. There's a group opposed to this wager. I think they're called "nutritionists."
Of course, the product most associated with Nebraska is
Lucky Brand beef jerky. Everyone knows that.
For Brad's latest musings,