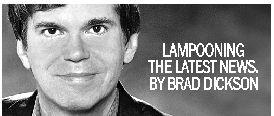 A quick tip to my co-workers: The green bread and milk in The World-Herald cafeteria had nothing to do with St. Patrick's Day.
St. Patrick's Day is about finding that pot of gold. Note to out-of-town visitors coming here for NCAA tournament games this weekend: A pot of gold is what it takes to pay our hotel tax.
This is a huge deal around here, I tell you. In Omaha on St. Patrick's Day, people party like they work for the U.S. Secret Service.
In honor of St. Patrick's Day, 47 Republican senators signed a letter to Ireland.
I read in The World-Herald that OPPD is preparing a new batch of nuclear fuel to power the Fort Calhoun Nuclear Station.
In my opinion, anytime you see the words "OPPD," "preparing" and "nuclear fuel" in the same sentence, it's time to evacuate. Nebraska State Sen. Mike Gloor said any proposal to reduce taxes in Nebraska should focus on "bunts and singles." OK, first of all, you're in Nebraska, so football analogies are preferred a million to one.