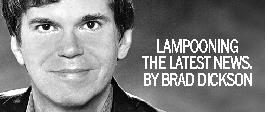 A fourth Dunkin' Donuts opened in Omaha last week. Are we sure that all those fireworks were for Independence Day?
Lincoln police cited a man for making illegal fireworks at a day care. Because they're Nebraska children, the kids at day care told him: "No, no, you're doing it all wrong. The fuse goes like this."
A 10-foot-wide sinkhole formed in a suburb outside Chicago. In Omaha, this would be declared a pothole, and a repair date of March 2018 would be set.
The first "marijuana breathalyzer" has been invented. So by this time next week, the streets of Colorado and Washington state should resemble a ghost town.
I heard that the inventor of the pot breathalyzer was driving past Coachella with the prototype and it exploded.
There's already a way to detect motorists who have marijuana:
They're the ones driving through Nebraska on 1-80 with out-of-state license plates. Never fails.