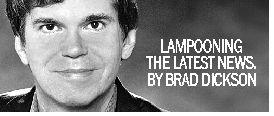 There was a partial solar eclipse Thursday. Lee Terry is already blaming Brad Ashford for the sun's disappearance.
This has been an ugly political campaign season. Instead of a post-election unity breakfast, all of the candidates for governor and the 2nd Congressional District seat will meet for a tag-team wrestling match.
There's a $421 million OPS bond issue on the ballot. Maybe we should start calling it 0P$.
I would n't say Gov. Dave Heineman's testimony before a special legislative committee next week is a political event, but Democrats are taking steps to have it simulcast into poll places where early voting is taking place. Heineman will swear to tell the truth with his hand on a copy of his new airplane's how-to manual. Nebraska made the top 10 in a list of states with the most immature men. Does that mean we should cancel this weekend's dodgeball game and trip to the circus, guys?
For Brad's latest musings,