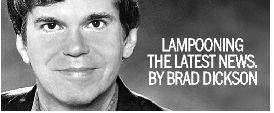 RickSantorum was in Council Bluffs earlier this week. Santorum has spent so much time in the area over the years that he flew to town to pay his Iowa property taxes.
Omaha received about a half-inch of rain on Tuesday. Our potholes were formally reclassified as lagoons.
An autonomous, self-driving car still needs someone to sit behind the steering wheel. That's to keep other drivers from freaking out. "911? Yeah, a car just passed us and nobody is driving!"
A candidate for lieutenant governor of Kentucky said he was arrested for failing to return a library book. I'm just glad that campaign isn't degenerating into personal, trivial attacks.
There are some new lane restrictions on Dodge Street in Omaha. Or, does that go without saying?
Sen. Ted Cruz announced on Twitter that he's running for president. He's already being trolled by Fake Hillary Clinton.
For Brad's latest musings,