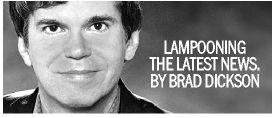 I'm not sure what was more exciting about Friday. That it got up to 65 degrees or that Omaha Beer Week officially got underway.
Omaha Beer Week actually runs for 10 days. Over 40 bars and restaurants are participating. I do feel the 57-block parade is a bit much.
It was just announced that Jimmy Buffet is coming to Omaha. So not only was it 65 degrees in Omaha on Friday, but we had celebrating middle-aged men in tropical shirts gathering en masse in the streets.
TV weather people are warning us that it won't stay this warm in February. I think anyone who's lived in Nebraska for, say, nine hours knows that.
The University of Nebraska-Lincoln has named four finalists to be chancellor. To determine who is most qualified, the four will be placed at a starting line and we'll see who can raise tuition the fastest.
I saw a hilarious SNL parody of a presidential debate. No, wait, that was an actual debate.