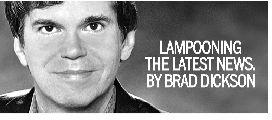 Gov. Pete Ricketts has named Scott Frakes the new head of the Nebraska Department Of Correctional Services. Frakes meets the major requirement to lead the state's corrections system — he knows how to read a calendar.
Iowa Sen. Joni Ernst gave the GOP rebuttal to President Barack Obama's State of the Union speech Tuesday. Was Rep. Brad Ashford unavailable?
If Obama's speech was geared any more toward working-class Americans, it would have been delivered from the roof of a Walmart.
At times, Obama struck a combative tone. Last time I heard something this combative, Bo Pelini was addressing his former team at a Lincoln high school. Obama's State of the Union speech was over 6,000 words long. Republicans responded with a single word: "No."
On Tuesday, Miller Park Elementary School was closed due to a water main break. In Omaha, kids learn advanced arithmetic by counting all the water main breaks in town.