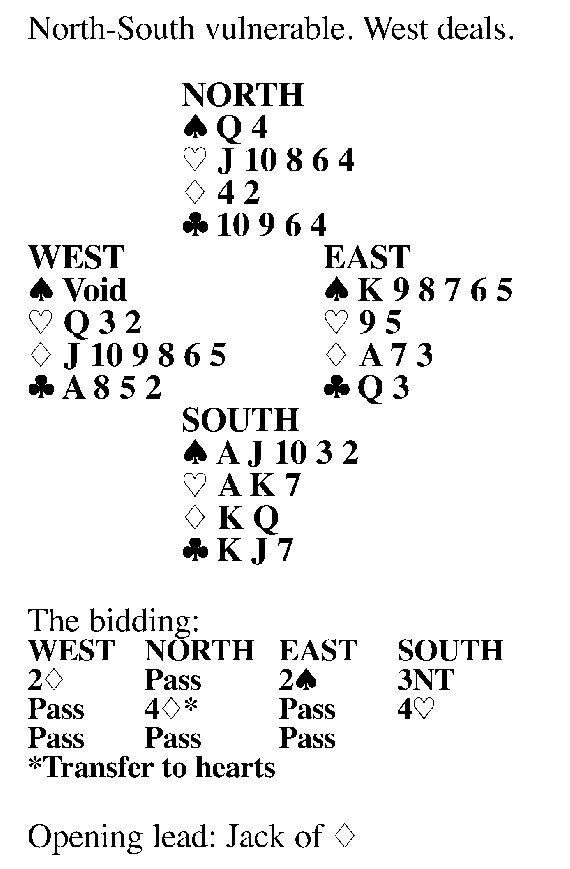 Counting is an essential skill tor a good player. That means keeping track of the opponents' high cards and distribution well enough to take advantage of the information.
Many would have passed three no trump with the North hand, but the decision to transfer got North-South to the right contract, played from the right side. Note that three no trump has no chance on a diamond lead and four hearts by North loses the first four tricks on a spade lead.
South won the diamond continuation at trick two and played the ace, king and another heart. West won and led another diamond, which South ruffed in dummy while shedding a spade from his hand. Playing on spades would not get him to 10 tricks — he needed the club suit.
At this point, declarer had an excellent count on the East hand. East was sure to have six spades, from the auction and West's failure to lead one, and he had shown up with two hearts and three diamonds. East must have started with two clubs. South needed him to have the doubleton queen to be successful, so he led a low club and inserted his jack when East played low. West did well by ducking his ace, but South was sure of his count and continued with the king of clubs. When that felled the queen, declarer could claim his contract, knowing that the spade finesse would win. Well done!