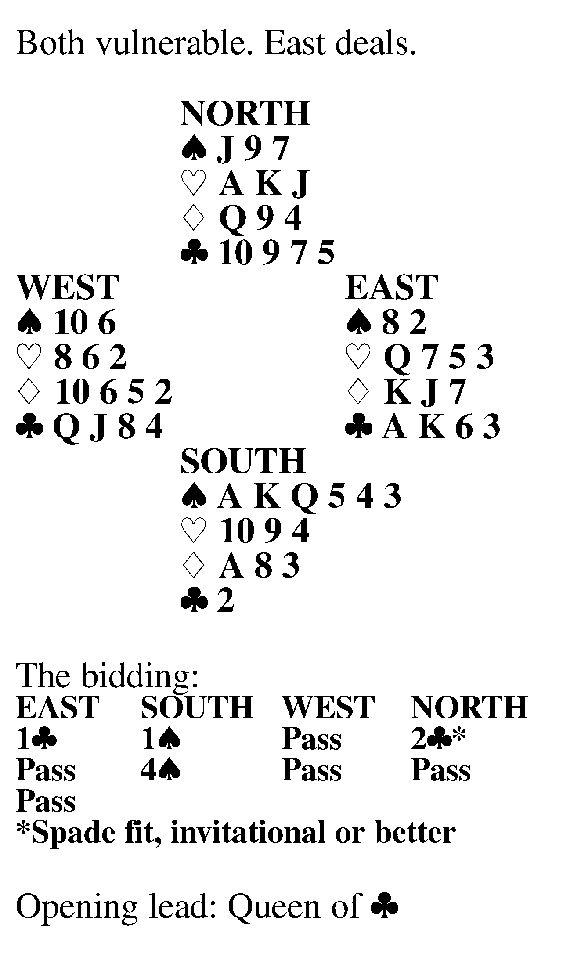 Bridge can be an easy game when you know where all the cards are. That is usually the case when you arrive in game after an opponent has opened the bidding.
West's queen of clubs held the first trick and he continued with a low club to East's king, South ruffing. Declarer drew trumps in two rounds and paused to consider his next move. Had East not opened the bidding, South might well have taken both red suit finesses and been defeated. The opening bid told its tale, however, and South knew that the king of diamonds lay with East, and likely the queen of hearts as well.
At trick five, South led a heart to dummy's ace and ruffed a club. This was followed by a heart to the king before ruffing dummy's last club. Declarer now exited with a heart to the jack, not much caring which defender won the trick. Had West produced the queen of hearts and shifted to a low diamond, South would have ducked in dummy and allowed East's jack or 10 to hold the trick. East would have been forced to yield a ruff-sluff or lead a diamond away from his known king. When East won the queen of hearts, he was end-played immediately. Easy game!
Be the first to know
Get local news delivered to your inbox!