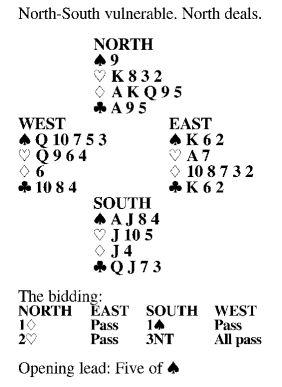 Fred had agreed to another game with Esther and she was determined to give it her best. She was concentrating furiously and recognized that Fred's rebid was a "reverse," promising at least 16 points. She jumped to three no trump, quite proud of herself.
The opening spade lead went to East's king as Esther ducked. She took the finesse on the spade return, inserting her jack, but this lost to the queen as dummy shed a club. She played low on the club shift — finessing and ducking were her specialties — losing to the king, then played her ace when East reverted to spades, this time discarding a heart from dummy.
Esther cashed dummy's ace of clubs and crossed back to her hand with the jack of diamonds. She cashed her two club winners, discarding hearts from dummy, watching intently for any diamond discards by the opponents. She led a diamond to dummy's ace and was crestfallen when West showed out — the last diamond wasn't good.
Esther had spent so much effort worrying about the diamonds that she had forgotten all about the hearts. "Has the ace of hearts been played?" thought Esther. She couldn't remember, but she was certain that the last diamond wouldn't stand up. She had to hope that the king of hearts was high, so she led it from the dummy and was deeply disappointed when East produced the ace. To her great surprise, East conceded the rest of the tricks. Esther wasn't sure what had happened, but Fred was smiling so she didn't care.