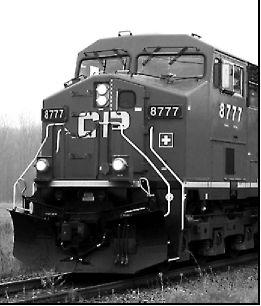 Canadian Pacific to seek shareholder resolution on merger
Canadian Pacific plans to ask Norfolk Southern shareholders whether they want the two railroads to pursue a merger.
Canadian Pacific said Tuesday that it plans to submit a shareholder resolution on a possible deal at Norfolk Southern's annual meeting this spring. But it doesn't plan to nominate its own slate of directors to press the issue.
Norfolk Southern has sternly rejected all of Canadian Pacific's takeover offers even as they approached roughly $30 billion. Norfolk Southern has said the offers have been so "grossly inadequate" that there wasn't much point in discussing a Canadian Pacific has said combining its railroad with Norfolk Southern would create a more efficient operation that could haul more freight. CP also predicts that it could cut roughly $1.8 billion in annual costs. — AP
Airfares lower amid fuel savings, competition
The average round-trip U.S. airfare was $372 in the third quarter, the lowest price since 2010, the federal government said Tuesday.
The price was down 6.2 percent from the same period in 2014, according to the Transportation Department's Bureau of Transportation Statistics.
Airlines have been passing along some of their fuel cost savings to consumers, and competition among airlines has also heated up as ultra-low-cost carriers like Frontier and Spirit give American, Delta and United a run for their money.
Third-quarter fares were down 3.5 percent from the second quarter of 2015. The numbers are adjusted for inflation.
Viacom to sell ads on behalf of Snapchat
LOS ANGELES — Viacom Inc. has signed a multiyear deal with Snapchat Inc. to sell ads on behalf of the popular photo and video-sharing app and increase the amount of programming on it.
The unique arrangement is a coup for Los Angeles-based Snapchat, enabling the TV advertisers the company craves to buy ads on the app at the same time they purchase spots on Nickelodeon, MTV and other Viacom networks.
"We can now offer television advertisers a way to tell their stories across television and mobile in a frictionless way," Imran Khan, Snapchat's chief strategy officer, said in a statement.
GM is recalling 473,000 vehicles over brake pedals
DETROIT — General Motors is recalling more than 473,000 trucks and SUVs in the U.S. and Canada because the brake pedals can come loose and fail to work properly.
The recall covers certain 2015 and 2016 Chevrolet Silverado HD, GMC Sierra HD and Chevrolet Tahoe police vehicles.
GM says a nut on the brake pedal pivot mechanism can come loose, causing the pedal to loosen and possibly become inoperative.
The company says it has no reports of crashes or injuries due to the problem. — AP
Corn, wheat surpluses expected to grow
The U.S. corn and wheat surpluses will be larger than analysts had forecast, as increased competition from Canada and South America slows exports, a U.S. Department of Agriculture report showed.
Corn supplies on Aug. 31, before the next crop is harvested, will be 1.837 billion bushels, according to the USDA. That's higher than the agency's January projection.
For wheat, the USDA now sees inventories as of May 31 reaching 966 million bushels, exceeding the January forecast. Soybean stocks as of Aug. 31 are now estimated at 450 million bushels, up from 440 million previously.