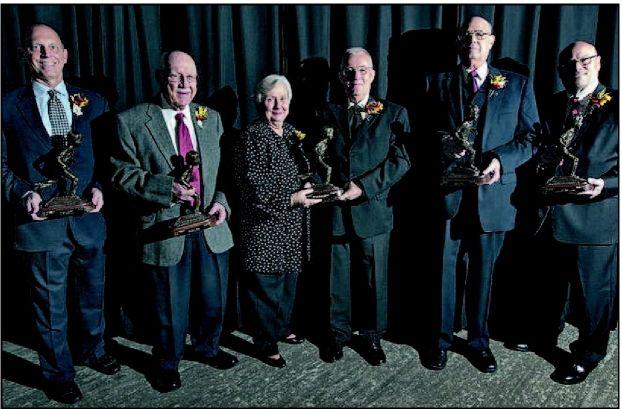 COUNCIL BLUFFS — An astronaut, a bank, a teacher and several business people were honored by Children's Square U.S.A. during the 2015 Jason Awards banquet this week at the Mid-America Center.
Those honored included retired NASA astronaut Clayton Anderson; fourth-generation Council Bluffs business leader Robert Knox; Council Bluffs business owners Ron and Suzanne Mahoney; and retired schoolteacher Richard "Dick" Briley, who lived at the home as a young boy. This year's corporate champion of children and community is U.S. Bank. Market President Henry "Mick" McKinley accepted the award.
Anderson was honored as the National Jason Award recipient for his "vision, courage and will." He worked as an engineer and astronaut with NASA for 30 years. In 2007, he completed a five-month tour of duty on the International Space Station. Anderson's book, "The Ordinary Spaceman: From Boyhood Dreams to Astronaut," was released in June.
Knox was honored for his lifelong commitment to community. He is the fourth generation to manage Knox & Co., founded in 1888. He served on the Christian Home Association Board from 1980-86 and held various offices, including president in 1985. During his tenure, the leadership and focus of the organization changed, the campus was renovated and the name was changed to Children's Square.
The Mahoneys have been active in the community for many years as supporters of education, community projects, animal welfare organizations and service clubs.
Briley, a World War II veteran, was honored for his lifelong contribution to children. Briley and his younger brother were taken to Children's Square after their father lost his farm during the Great Depression. They were eventually reunited with their father. Briley credits a matron at the campus with inspiring his love of reading.
U.S. Bank was honored with the corporate award. The bank has been a longtime supporter of Children's Square and helped lead a capital campaign in the 1990s that funded construction of the Lied Children's Complex, renovation of Discovery Park, an addition to the Lemen Visitor Center and other improvements.