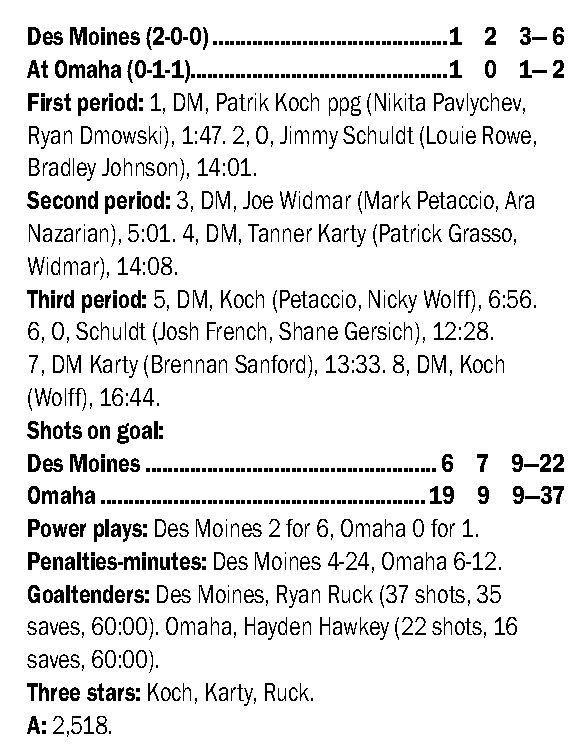 Patrik Koch had a hat trick for Des Moines, and Tanner Karty added two more goals as the Buccaneers trounced the Lancers 6-2 on Friday night in front of a Ralston Arena crowd of 2,518.
Despite outshooting Des Moines 37-22, the Lancers never seemed in control of the game.
Omaha coach Brian Kaufman said his team was lackluster from the outset.
"I thought it was a rough one, you know?" he said. "Early on, I didn't think we had the energy we needed. I'll take the blame for this one. We didn't have our guys ready to go."
Ryan Ruck was stellar between the pipes for Des Moines, stopping 35 of 37 shots he faced.
Kaufman said the Lancers made things easier on Ruck by not getting enough bodies in front of him.
"We didn't take his eyes away well enough," the coach said. "I thought we had a lot of chances, but they weren't high-quality chances."
Hayden Hawkey struggled in goal for the Lancers, allowing six goals on 22 shots, but Kaufman said those numbers didn't accurately tell the story.
"A lot of turnovers. We gave up way too many opportunities," Kaufman said. "I'm sure Hayden would have liked to have been better, but he's not the reason we let that game get away."
Jimmy Schuldt scored both goals for the Lancers.
The game was tied 1-1 after the first period, but an Omaha turnover in the defensive zone led to a Joe Widmar goal 5:01 into the second period to give Des Moines a 2-1 lead.
Des Moines made it 3-1 on a power-play goal by Karty after Niklas Folin was sent to the penalty box for holding at 13:10 of the second period.
Karty walked in on Hawkey from the right face-off circle and fired a wrist shot over the goalie's left shoulder with 5:52 remaining in the second.
The Lancers (0-1-1) held a 28-13 advantage in shots on goal through two periods.
The Buccaneers (2-0-0) extended their lead to 4-1 about seven minutes into the third on Koch's second goal of the night.
Schuldt's second goal trimmed the Des Moines lead to 4-2 with 7:32 remaining.
But Schuldt was called for tripping just 30 seconds later, and the Buccaneers were awarded a penalty shot.
Hawkey stopped Ara Nazarian on the attempt, but Des Moines scored 35 seconds later when Karty's second goal extended the Buccaneer lead to 5-2.
Koch notched his third goal of the game with 3:16 remaining, beating Hawkey to make it 6-2 Des Moines.
The Lancers visit Dubuque on Saturday followed by a road trip next weekend to Des Moines and Cedar Rapids.