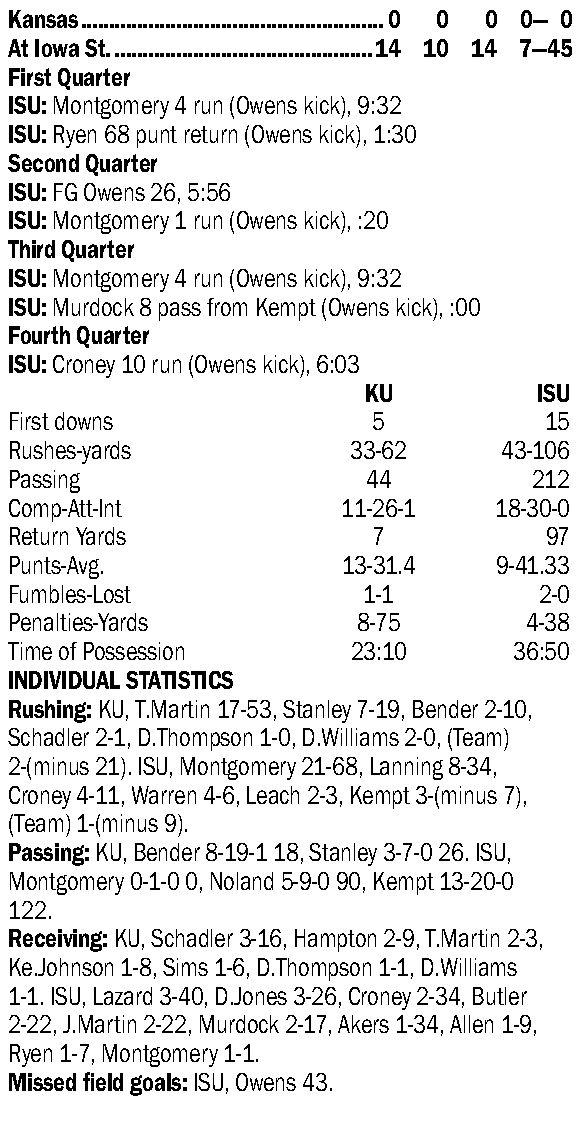 AMES, Iowa (AP) — The challenge for Iowa State after stunning Oklahoma on the road was to see if it could handle success.
Kansas made sure the Cyclones didn't have to face much adversity on a soaking wet Saturday in Ames.
David Montgomery ran for a career-high three touchdowns, and Iowa State throttled Kansas 45-0 for its second straight win.
Trever Ryen added a 68-yard punt return for a score for the Cyclones (4-2, 2-1 Big 12), who held the Jayhawks to a season-low 106 yards — Iowa State's fewest yards allowed since 1963 — and shut out a Big 12 opponent for just the fourth time.
"They've been through a lot here. They're not into everybody patting them on the back," said Iowa State coach Matt Campbell, whose team went 3-9 last season. "All they're into is working and they've done a really good job in setting the tone."
Montgomery turned an interception into a 4-yard TD run to open the scoring, and Ryen's return gave Iowa State a 14-0 lead.
A bad snap on a punt by Kansas (1-5, 0-3) led to Montgomery's 1-yard TD plunge that pushed the Cyclones ahead 24-0, and Marchie Murdock's 8-yard TD reception to end the third quarter made it 38-0. Montgomery rushed for 68
yards and Kyle Kempt went 13 of 20 for 122 yards with a touchdown for Iowa State.
The Cyclones, who have not been to a bowl game since 2012, are two wins away from bowl eligibility at the midway point of the season.
Kansas, which entered play averaging 26.5 points in two Big 12 games, put forth one of the worst offensive performances in school history.
The Jayhawks punted 13 times, were just 2 of 17 on third down and didn't cross into Iowa State territory until midway through the fourth quarter.
Taylor Martin had 53 yards rushing for Kansas, which was without leading rusher Khalil Herbert (hamstring).
"We had too many errors in special teams ... we've got to be able to play complementary football," Kansas coach David Beaty said.
The Jayhawks started with more turnovers (two) than plays from scrimmage (one) after they muffed a punt and threw a pick. Kansas gained just 40 yards on 30 plays in the first half.
"They controlled the line of scrimmage," Beaty said.
Kansas started Peyton Bender at quarterback, and he finished 8 of 19 passing for 18 yards. Carter Stanley was 3 of 7 for 26 yards in garbage time.