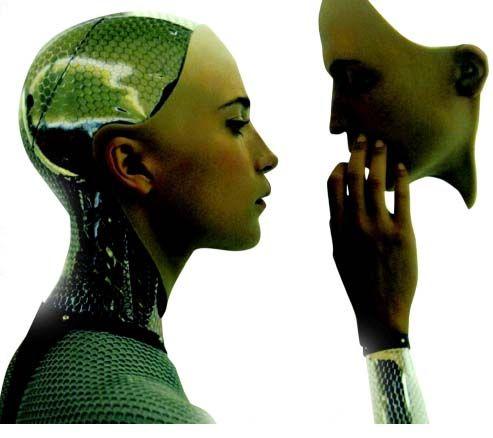 The concept is not new. An artificial-intelligence creation becomes a potential risk to its human builder, and maybe mankind, when that mind of its own ponders self-preservation.
Think "2001: A Space Odyssey," "Blade Runner," "I, Robot" or the recent "Chappie."
But the execution of this idea in "Ex Machina" is so artful and compelling, with its own twists, that it's well worth visiting again.
Caleb (Domhnall Gleeson), an exceptionally bright young computer programmer, wins a corporate contest and is chosen to spend a week with Nathan (Oscar Isaac), the company's reclusive genius, at his remote hideaway.
Deposited at the roadless mountain retreat by helicopter, Caleb discovers a glass and steel home/workshop whose owner is eccentric, to say the least. He has a stubbly shaved head, a heavy beard and a fondness for both physical fitness and heavy drinking. He is alternately convivial and icy cold. There's a vague sense of danger attached.
Nathan tells eager Caleb that his job will be to administer the Turing test — to see whether the artificial-intelligence being Nathan has created, Ava, functions with fully human consciousness.
Ava (Alicia Vikander) has a beautiful face, hands and body shape. The clear plastic back of her head, midsection and limbs reveals connecting cables and other hardware that emit an eerie blue glow. She moves with graceful precision. She flirts.
Quickly Caleb becomes aware of just how controlled his environment is. Surveillance cameras and microphones capture his every move, waking and sleeping. Doors may or may not let him in and out.
The movie becomes a game of cat and mouse. Whom should we, and Caleb, trust? Who's testing whom? What knowledge does each of the three possess about the two others?
Periodic revelations shift the equation. Mental pressures are brought to bear.
Just when you think Nathan might be bad news, he breaks that icy reserve with a joke or breaks into a dance with his assistant (Sonoya Mizuno).
Ava, locked behind thick glass walls at all times, stirs sympathy, sexual desire and doubt, gently whirring with each movement.
Caleb must draw his own conclusions in this controlled vacuum of limited information and, like Hamlet, decide what to do.
First-time director Alex Garland, known for his novel "The Beach" and the screenplay of "28 Days Later," turns in a taut, stylish, disquieting thriller. It works because of exceptional art and sound design, a clever and spare script, and three smashingly good performances.
The title refers to the phrase "deus ex machina," whose roots lie in ancient Greek theater. When a writer painted himself into a corner, he would send down the gods via machine to resolve the problem.
Garland's gift here is science fiction that generates emotional connection to humans and machine alike. And the plot twists are credible enough to avoid feeling like a convenient out — and to keep a non-sci-fi fan like me on board, start to finish.
Quality:* * * (out of four)
Alicia Vikander, Domhnall Gleeson, Oscar Isaac
Alex Garland Rating: R for graphic nudity, language, sexual references, violence
Running time: 1 hour, 48 minutes
Theaters: Aksarben, Bluffs 17, Majestic, Oakview, Twin Creek, Village Pointe, Westroads