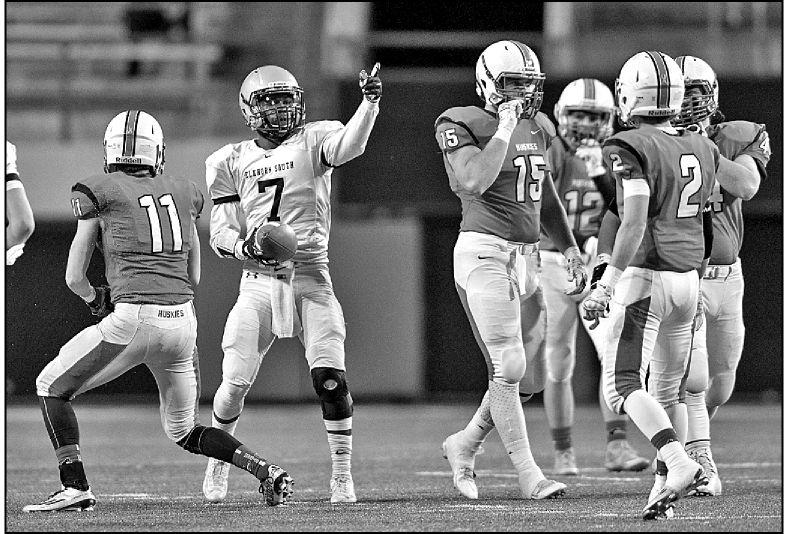 Bruning-Davenport/Shickley became the third Eight Man-1 champion in a row that had been the state runner-up the previous year.
The Eagles in 2014 lost 52-8 to Hemingford.
"We had two great groups of seniors,'' said Mark Rotter, who coaches BDS with Mark Ardissono. "It's a great way for them to finish."
Senior quarterback Riley Tegtmeier got a little philosophical when talking about the championship.
"Nothing is ever going to replace just the feeling of playing the game we love, missing all the Friday night lights, and this is a perfect way to end it,'' he said.
Kale Kleinschmidt, who spelled Tegtmeier at quarterback when he went out in the second half with leg cramps, will be a leader of next year's team.
"Whatever (classification) they're in,'' Tegtmeier said, "they're my pick to win it with him back there. He, in my opinion, is one of the best backs in the state and proved it here again today. It's great to know if I don't play the whole game we have him in there. He's going to run for 200 yards or whatever he does. He's just an unreal player."
Official goes down with cramps
One of the early substitutions in the Eight Man-2 final was with the officiating crew.
Line judge Justin Leisy suffered leg cramps in the first quarter after a change of possession, and the game was held up while alternate Mark Wieting came on to take his place.
Efort of chain gang gets cheer
Some of the best hustle of the night was shown by a member of the chain gang during a break in second-half action of the Class B final.
The chains were called out for a measurement but on the way back encountered an issue.
That's when a member of the group took off in a dead sprint from one end zone to the other, covering nearly 80 yards on his way to the back-up sticks.
His effort didn't go unnoticed. Fans of both sides gave the official a cheer as he ran back to the end of the field he started from.
Let the quarterback controversy begin.
OK, not really, but starter Braden Wright wasn't the only one who completed a big pass Monday night for Elkhorn South.
Sophomore running back Moses Bryant took a fourth-quarter handoff to the left before unleashing a left-handed lob pass downfield to Matthew Slominski that went for 29 yards and got the Storm going on their go-ahead drive.