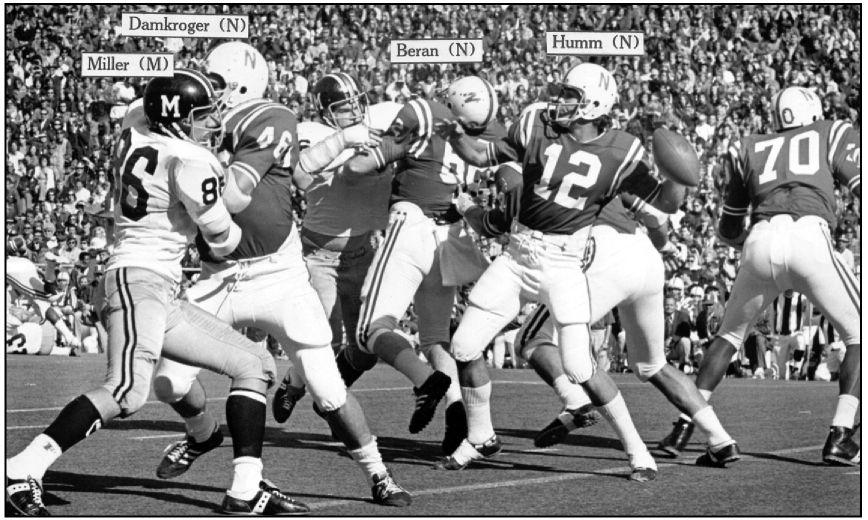 LINCOLN — Dave Humm played baseball, basketball and soccer as a kid, and he had it narrowed down to just baseball when he got to Bishop Gorman High in Las Vegas.
"I signed up for baseball, and they said you have to play two sports," Humm said. "They said, 'You're a pitcher, so why don't you try out for football?' "
So Humm went to work with the quarterbacks as freshman practices started.
"It's the craziest thing, but I took a snap and I took another one and fell in love with it in my first two plays," Humm said. "I can honestly remember, I said, 'This is what I want to do.' And I ended up playing 19 years."
Three of those came as the Nebraska starter from 1972 to '74, after he was a three-year varsity starter at Bishop Gorman and became a high-profile recruit. The left-hander took a torch to the Husker record book by setting 12 school marks, along with four Big Eight records and one national mark.
How lofty were some of Humm's numbers?
His single-season record for passing yards (2,259 in 1972) stood until 2005, and his career passing total (5,035) was on the books until 2006. Both were broken by Zac Taylor.
The 1974 All-American and Heisman Trophy finalist was a fifth-round draft pick and played 10 NFL seasons, starting and finishing his career with the Raiders. He returned to the organization in 1995 to do pregame and postgame radio shows and sell luxury suites and advertising, and still does a weekly show.
Humm, 63, was diagnosed with multiple sclerosis in 1988 and has been confined to a wheelchair since 1997 but has continued on with the Raiders working from his Las Vegas home. Humm regularly praises the generosity of the Raiders' late owner, Al Davis, for never turning his back on him.
"I can't imagine another team letting me do what I do," Humm said.
More from Humm, who won two Super Bowl rings with the Raiders and has a third from his broadcasting time:
Q: Do you feel like the Raiders are finally heading back in the right direction?
A: I love this team we've got. ... I think we're in good hands. I think we're in good shape.
Q: Are you still as passionate about the franchise as ever?
A: They've been paying me for 21 years. I'm still in the game with the Raiders, and it's exciting and fun for me. I just love this game. I owe it much more than it's given me.
Q: Were you ready for the transition from Bob Devaney to Tom Osborne after your sophomore year at Nebraska?
A: Coach Devaney called me in and said, "I promised I'd be here your whole career." And he said, "OK if I retire?" I said, "What, am I going to tell you you can't retire?" I said, "You deserve everything good to happen to you, and you can't be stuck worrying about me. Coach Osborne and I will be fine without you."
Q: So, were you and Coach Osborne fine with each other?
A: I think I drove him crazy with my hair, my purple pants. I think I had a few things that rankled him a little bit. I had a couple outfits he probably didn't like.
Q: Was one that jacket you're wearing in your picture in the 1974 press guide?
A: I got it here in Vegas. Julie's, I think, was the store. That was one of my coats. I had some fun shoes and I just had some fun. Definitely some stuff that you didn't have back there.
Q: What was it like throwing to Johnny Rodgers during his Heisman season in 1972?
A: There was pressure on me to get him the ball. I knew where he was all the time. I knew the Heisman was his if we could get him the ball, after the year before that he had.
Q: Is it true that he always thought he was open?
A: You couldn't argue with him, because he was. But he'd drive me crazy in the huddle. He drove me nuts. But I had Frosty Anderson, Bob Revelle ... they were all talking. You couldn't shut them up.
Q: When you set the NCAA record with 15 straight completions at Kansas in 1974, what were you saying to yourself when you couldn't miss?
A: I had no idea about the streak. Coach had pulled me, because like a lot of those games we were so far ahead at halftime. But he came over, told me to go back in and run this short screen pass. I ran back out, threw it, came back out and they said, "Congratulations, you just broke the national record." I didn't know.
Q: How did a kid from Las Vegas fit in at Nebraska?
A: Everything closed up so early, compared to what we did here in a 24-hour town. Just the whole speed of life was so different than it is out here. Just some of the things we did as stupid teenagers were a lot different. But it was amazing just how nice everybody was, and still is.
Q: Did you savor becoming "Dave the Dealer" along the way?
A: I had so much fun playing. We were so good. Coach Osborne was my quarterbacks coach the whole three years, and we were so wide open. I think I had over 650 attempts. People say, "You ran the option so much," and I'd go, "No, no, no." Coach Osborne tried to put the option in with me, and I'd always take two steps and pitch it.
Q: Out of the Orange, Cotton and Sugar, which was your favorite bowl experience?
A: The Orange because Johnny was down there, and probably the best game I played, for sure. And it was my first bowl game. The Sugar Bowl was fun because of Bourbon Street and everything, and they still give you some free time.
Q: Did Nebraska-Wisconsin bring back any recollections of playing the Badgers in 1973 and '74?
A: I remember we came back and beat them (20-16 in Lincoln in 1973), and I remember I got knocked out running the option. That darn option. I wanted to say, "See!" I was just mad I lost that half of that game. Both were real close (Wisconsin won 21-20 in 1974).
Q: Was Bishop Gorman the powerhouse back then that it has become now?
A: No, we were a smaller town. We were pretty good, but we had one high school we couldn't beat, Clark High.
Q: Were you a good match for the Raiders and that kind of desperado mystique?
A: I was so out of my league when I first walked in. It was just a total difference from where I came from, Catholic school here in Vegas and then Nebraska. Then it's (Jack) Tatum and George Atkinson, and Marv Hubbard, Otis Sistrunk, Art Shell, Gene Upshaw. It was an amazing experience just being around them.
Q: How about Kenny Stabler?
A: I lockered next to him for five years, and he was the coolest guy I ever met. My first night he said, "Come with me, we're going out." And I did learn after that first night with them that I'll take my own car. We never went home. It was a good rookie lesson: Drive your own car. But no matter how big the game or situation was, or if (John) Madden was going nuts, he was never flustered. People would say, "What are we gonna do?" And he was always, "I got this." It was just ridiculous how tough he was, how good he was, and the leader he was.
Be the first to know
Get local news delivered to your inbox!