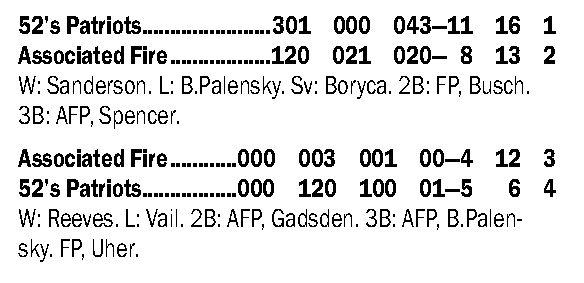 HASTINGS, Neb. — The 52's Patriots quest to battle back from the losers bracket didn't come up short this time.
Ryan Cornell scored on a throwing error to give 52's (Millard South) a 5-4 victory in 11 innings against Associated Fire Protection (Papillion-La Vista South) in the Class A Seniors American Division state tournament Wednesday night at Duncan Field. The Patriots forced a second championship game by beating the Titans 11-8 earlier in the day.
In the opener, the Patriots scored four runs in the eighth inning and three in the ninth to rally, forcing a winner-take-all championship game.
For 52's coach Greg Geary, seeing his team win four consecutive games while facing elimination was especially satisfying. During the spring baseball season, the Patriots started 1-1 in the state tournament and battled back before losing 1-0 to Omaha Westside in the title game.
"We talked about it before game one today that we had been in this situation before," Geary said. "This game was a dogfight that could've gone either way.
"I think the experience and the pressure that our kids have played under during the spring season helped us gain some knowledge and have the confidence that they knew they could get it done."
Tied 4-4, Cornell led off the bottom of the 11th with a single and took second on a wild pitch before Dylan Uher drew a walk. Drew Gilin then laid down a sacrifice bunt that was fielded by Associated Fire Protection pitcher Tyler Vail. But Vail's throw to first was wide and sailed down the right-field line, allowing Cornell to score the game-winner.
"We were just trying to move the runners over and once I saw the throw get by him, it was a lot of emotion — I've been doing this a long time and we had yet to win one," said Geary, who is in his ninth year coaching the Millard South American Legion squad. "I'm just happy for these guys and I had always told them that I couldn't wait to see them celebrate after winning a championship. Everybody contributed."
Associated Fire Protection coach Bill Lynam said he was proud of the way his team competed. The Titans started the tournament 4-0 and needed one win Wednesday to take the title.
"It was two great teams that didn't want to lose in either game," Lynam said. "Both teams had opportunities to win and eventually they came through and won both games. It wasn't because we didn't try or didn't execute — it was just two great ballgames.
"It was tough to lose that first game the way we lost it, but we showed some character and came back ready to play in game two. Millard South earned it and they were just a little bit better than us today."
As the American Division champion, 52's Patriots (36-15) will play at National Division champion Omaha Creighton Prep on Saturday for the state title. First pitch is scheduled for 6 p.m.
Be the first to know
Get local news delivered to your inbox!