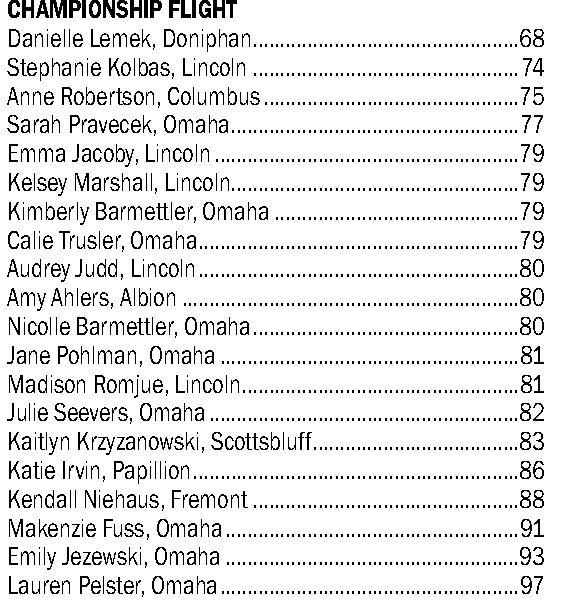 Lemek has shot to repeat as champ
NORTH BEND, Neb. — Danielle Lemek of Doniphan could be on her way to a repeat Nebraska Women's Amateur golf title.
The Bradley senior shot a 2-under-par 68, with a birdie-bogeybirdie finish, at North Bend Golf Course for a six-stroke lead over two-time past champion Steph Kolbas of Lincoln.
Anne Robertson of Columbus, with a 75, is another stroke behind.
The second round starts at 9 a.m. Tuesday on the 5,639-yard course hosting its first women's major state tournament. The final round Wednesday has a 9 a.m. shotgun start.
Especially for the first two rounds Thursday and Friday, finding the U.S. Open on television will be different from the past 20 years of ESPN and NBC.
Fox Sports 1 (Cox Channels 78, HD 1078; Prism 620, HD 1620) will carry the coverage from Chambers Bay from 11 a.m. to 7 p.m. Thursday and Friday, with Fox (Cox 10, HD 1010; Prism 42, HD 1042) taking over each night at 7 p.m.
Fox begins its coverage Saturday and Sunday at 1 p.m. each day.
Recent Norfolk Catholic graduate Brandon Clausen has received the Glen Blakeman Memorial Scholarship. Blakeman's widow, Marlene, said the scholarship is open to boys and girls from the three Norfolk high schools. Clausen, she said, was chosen for his sportsmanship, love of the game and character.
The 14th annual Nebraska Lions High School Senior All-Star tournament will be June 22 and 23 at Kearney's Meadowlark Hills Golf Course. The tournament is for the top 15 girls and top 12 boys finishers from each class of the high school state championships.