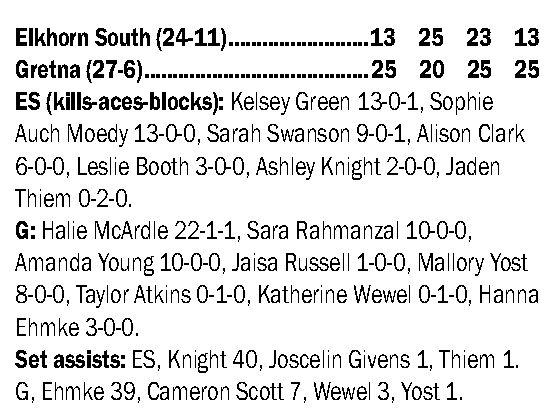 CLASS B: GRETNA 3, ELKHORN SOUTH 1 (25-13,20-25,25-23,25-13)
LINCOLN — Mike Brandon and Briana Ritter described their volleyball teams' season series in about the same terms.
Only Ritter did it red-eyed.
Brandon's Gretna team, which had been 0-4 against Ritter's Elkhorn South team during the season, got the win when it counted the most, beating the Storm 25-13, 20-25, 25-23, 25-13 in Class B's first round Thursday night at Pinnacle Bank Arena.
"It's been knock-down, drag-out volleyball," Brandon said. "There's no secrets between us."
Ritter said drawing the Dragons did her team no favors.
"It was four to-the-line, fight-to-the-end matches," she said. "Gretna definitely didn't make errors this time."
Halie McArdle's 22 kills for Gretna were a match high. Sara Rahmanzal and Amanda Young each had 10 for the No. 3 Dragons (27-6).
Kelsey Green and Sophie Auch Moedy led Elkhorn South (24-11), which was ranked second in Class B and seventh in the Top 10, with 13 kills apiece.
After Elkhorn South evened the match by winning the second set 25-20, after losing the first 25-13, the teams engaged in a highly competitive third set that ended on a Gretna run.
Gretna's run carried into the fourth for a relative breeze.
"We passed better. They served us off the court the last time," Brandon said. "A little bit too was that our girls were sick of losing to them."
Said Ritter: "Our serves didn't throw them off their game. We couldn't force a bad pass."
The Dragons meet another Eastern Midlands Conference rival, defending Class B champion Norris, at 7 p.m. Friday. Gretna has the series advantage at 2-0. A win would put the Dragons into the Class B final for the second time in three seasons.
"We're just focused on Norris," Brandon said. "We're not worrying about the final because we have to play well."