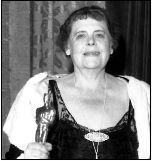 April 19, 1865: A funeral was held at the White House for President Abraham Lincoln, assassinated five days earlier; his coffin was then taken to the U.S. Capitol for a private memorial service in the Rotunda. 1775: The American Revolutionary War began with the battles of Lexington and Concord.
1912: A special subcommittee of the Senate Commerce Committee opened hearings in New York into the Titanic disaster.
1935: The Universal Pictures horror film "Bride of Frankenstein," starring Boris Karloff with Elsa Lanchester in the title role, had its world premiere in San Francisco.
1943: During World War II, tens of thousands of Jews in the Warsaw Ghetto began a valiant but ultimately futile battle against Nazi forces. 1945: The Rodgers and Hammerstein musical "Carousel" opened on Broadway.
1951: Gen. Douglas MacArthur, relieved of his Far East command by President HarryS. Truman, bade farewell in an address to Congress in which he quoted a line from a ballad: "Old soldiers never die; they just fade away."
1960: South Korean students began an uprising that toppled the government of President Syngman Rhee a week later. The South West African People's Organization was founded in Namibia.
1965: New York City radio station WINS-AM launched its all-news format, which continues to this day, making it America's oldest all-news broadcaster.
1975: India launched its first satellite atop a Soviet rocket.
1989:47 sailors were killed when a gun turret exploded aboard the USS Iowa in the Caribbean.
1993: The 51-day siege at the Branch Davidian compound near Waco, Texas, ended as fire destroyed the structure after federal agents began smashing their way in. Dozens of people, including sect leader David Koresh, were killed.
1995: A truck bomb destroyed the Alfred P. Murrah Federal Building in Oklahoma City, killing 168 people.
"Never one tiling and seldom one person can make for a success. It takes a number of them merging into one perfect whole."
Marie Dressier, Canadian actress (1869-1934)